Introduction
When one is engaged in the endeavor of content creation, the art of organization and management cannot be ignored, as it is vital to the triumphant execution of any project. An effective approach to facilitate this is to employ the use of a content segmentation grid. This valuable tool can aid in the identification of loopholes in one's content creation efforts, as well as pinpoint content that is yielding optimal results, while concurrently ensuring that all created content aligns seamlessly with the overarching business objectives.
It's high time for those who remain uninitiated to the concept of market segmentation to dive right in and start exploring. In the subsequent discourse, we shall be delving into the nitty-gritty of market segmentation, elucidating how the usage of content segmentation grids can be advantageous in the all-encompassing realm of content organization and management, and shedding light on the steps that can be taken to incorporate segmentation into one's content strategy.
What Is Market Segmentation?

Market segmentation is a highly intricate process that involves the division of a market into homogeneous groups of consumers, with the aim of gaining a better understanding of their behavior and targeting them with tailored marketing efforts. There are various methods of market segmentation, including demographics, psychographics, benefits sought, usage rate, and customer loyalty, each offering a unique perspective on consumer behavior.
Demographics & Psychographcis – Demographics, being the most common form of segmentation, offers insights into customer behavior and buying habits, while psychographics, also known as lifestyle segmentation, examines psychological factors such as personality, values, attitudes, and lifestyle, to understand what influences consumer behavior.
Geographical – Additionally, geographical segmentation, which divides customers based on their physical location, is useful for businesses that have a presence in specific regions or are targeting a specific location, such as country, state, city, or even zip codes.
Benefits Sought – Benefits sought segmentation, on the other hand, explores the benefits that customers are seeking from a product or service, which helps identify unmet needs and wants.
Behavioral & Usage Rate – Behavioral segmentation focuses on customers' purchase history, product usage, and brand loyalty, while usage rate segmentation examines how often a product or service is used and can be used to identify heavy and light users, as well as potential users
Customer Loyalty – Lastly, customer loyalty segmentation examines how loyal consumers are to a brand, which is useful in identifying brand ambassadors and potential defectors.
With a multitude of market segmentation methods available, creating an effective content strategy can be challenging. However, content segmentation grids can help businesses tailor their marketing efforts to specific customer segments. In short, understanding market segmentation is crucial for businesses that want to develop effective content strategies and target their customers with tailored marketing efforts that resonate with their needs and desires.
Content Segmentation Grid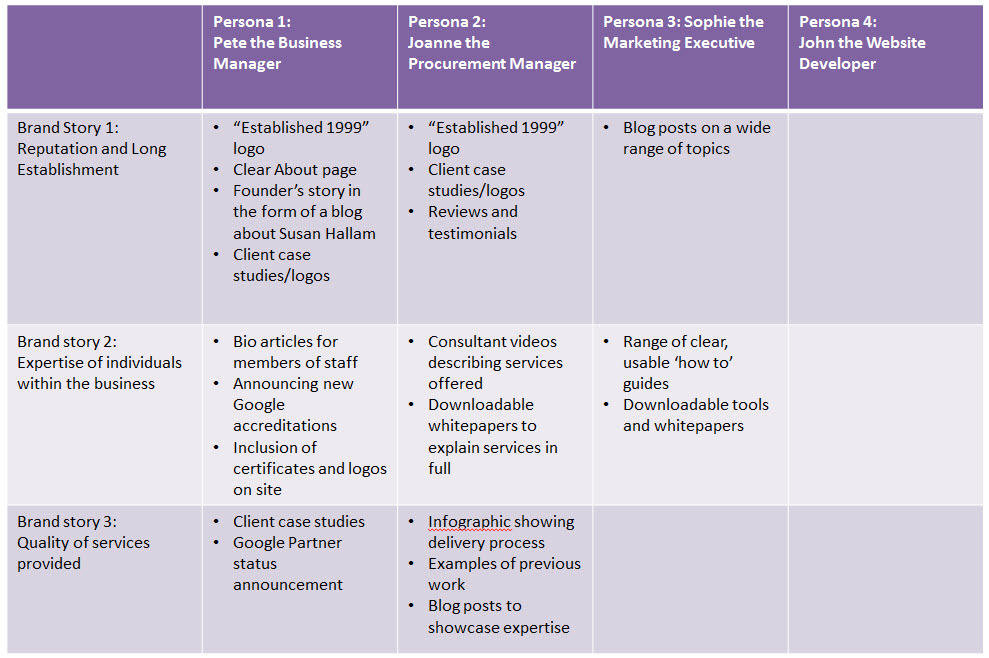 In the quest to effectively manage and organize content, one powerful tool that has proven to be a game-changer is the content segmentation grid. This innovative tool is a graphical depiction that serves to lay bare how content is organized, and in addition, it can be effectively utilized to pinpoint content gaps, track performance metrics, and validate that all content remains harmoniously in sync with the overarching business objectives.
A plethora of techniques can be employed to generate a content segmentation grid, but the most popular methodology involves using a spreadsheet. This approach not only simplifies the tracking and management of content but also provides an expedient means of executing the fundamental components of content organization.
However, if you are working with a large amount of content, you may want to consider using a more robust tool such as a content management system (CMS).
When you're starting a business, it can be difficult to know where and how best to target your potential customers. But with the many different ways, there are for segmenting markets—based on age range or income levels among others-you have plenty of options when deciding which type will work best for yours!
While creating a content segmentation grid, you should remember:
1. Align your content with your business goals
To create a content that encourages focus and feels relevant to your audience, it is essential for the content to align with your business or brand goals.
2. Make sure to segment your content
Segmenting your content is also equally important to make sure that the content you are producing is targeted to your niche customers and is also relevant to their idealogies. When segmenting your content, consider your niche audience, also known as target audience, their needs, and how they prefer to view or consume content.
3. Make sure your content is scalable
Make sure that the content you create is easily adaptable and can be expanded along with the growth of your business. As the industry changes, so do the trends, and your content should be scalable to be successful.
4. Make sure your content is evergreen
Evergreen content need not necessarily mean an outstanding rank of content but something that can be viewed over and over by audience and feel authentic. It is what new you can bring to the table matters to the audience, without the content feeling boring or outdated.
5. Make sure your content is actionable
Once you create the content, the users should know what they should do next, and to do that, CTA (call-to-action) is important. A content is only fulfilled when it has CTA at the end of it, that calls the user to take action and proceed to where next.
Creating a content segmentation grid may seem like a horrific task, but it does not need to be that hard if you know the right tactics and follow the industrial trends. By following these tips we have provided above, you will be off with a great start and create a content segmentation grid of your own that can align with your business goals and achieve visibility.
Content Segmentation Grid: Tools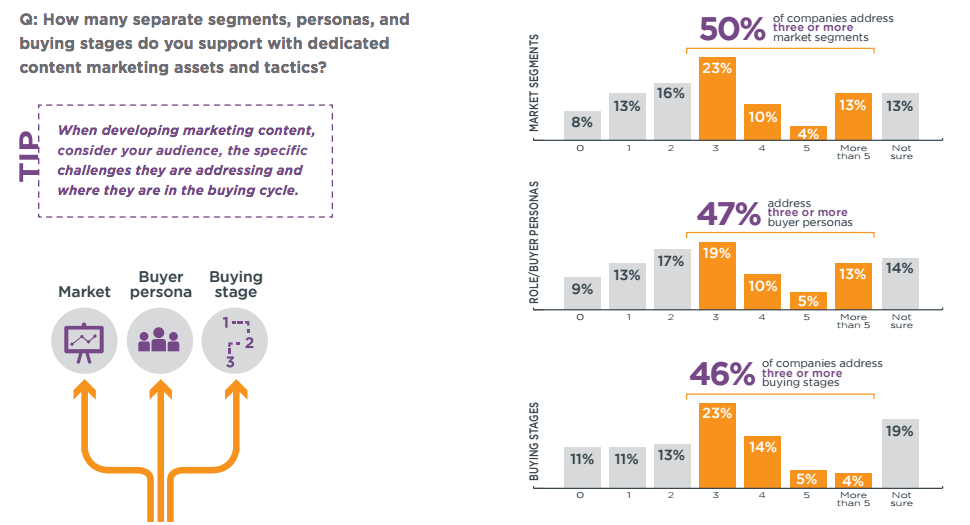 Several tools can aid you with creation of content segmentation grid, that can be used to track content performance, discover gaps in content, and make sure that all content is aligned with business goals.
1. Google Analytics
Google Analytics is the most popular and free tool that you can use to track website traffic and performance of the website. It can show which content is performing well, which media are visitors coming from the most, bounce rate, and how long they are staying on your website.
2. BuzzSumo
BuzzSumo is another tool, but a paid service allowing you to see the most popular content on social media, and identify industry trends, optimize content as needed, and track performance using metrics.
3. Inriver
The content management system (CMS) Inriver is a paid platform that allows you to segment your website's published material by the topic, audience, or channels. You can track performance and see how it changes over time thanks in large part due to its built-in analytics tool!
4. Kapost
Kapost is the perfect tool for marketers who are looking to take their content marketing strategy up a notch. It helps you create segments of your own based on topic, audience, or channel–and then track how well each one performs!
5. Scribe
The content marketing platform, Scribe can help you turn your ideas into reality. With its powerful segmentation tool and analytics engine, it will provide essential data for the success of any campaign or strategy in the modern digital era!
6. CoSchedule
CoSchedule is a paid content marketing platform that includes a content segmentation grid tool. It allows you to filter your content based on the topic, audience, or channels and track performance.
7. Pardot
With Pardot, like above you can filter topics, audience, and more, and see what's performing well. You'll also be able to track how often a specific type of information is shared on social media channels like Facebook or Twitter with the help of their analytics tools!
8. Marketo
Marketo is a marketing automation tool that lets you segment your content by topic, audience, or channels. You can then track performance for each of these different types to see which ones are performing best at any given moment in time so it will be easier when choosing what posts go onto social media next!
9. HubSpot
HubSpot is the perfect marketing tool for any business looking to automate its content strategy. With this innovative software, you can segment your audience by topic or channel and track how different pieces of information perform based on what they're intended for – not just whether it's good!
While using a spreadsheet is a low-budget option, tools will make it easier to track your content and segment it effectively.
How to Create a Content Segmentation Grid
When it comes to employing tools to enhance one's content creation efforts, there are some essential rules that must be adhered to. Now that we have examined some tangible use cases of how content segmentation grids can be instrumental, let us explore the steps that need to be followed to establish a content segmentation grid within the context of CMS Inriver.
For purposes of illustration, we have opted to segment by topic, a viable approach that holds immense promise when one has copious amounts of content to contend with and desires to target distinct topics with laser-like precision.
1. In the CMS, create a new Segment below the "Content" tab.
2. Name your Segment and add a description (optional).
3. In the "Configuration" tab, select " topics" from the drop-down menu.
4. Choose which topics you want to include in this Segment. You can either select all topics or only certain ones.
5. In the "Targeting" tab, specify how you want this Segment to be used.
6. In the "Content" tab, add the pieces of content you want to include in this Segment.
7. Save your Segment and you're ready to go!
By following these steps, you've successfully created a content segmentation grid in Inriver CMS. Now it's time to put it to use and see how it can benefit your content strategy!
Content Segmentation Grid Usage Examples
The content segmentation grid is a versatile tool that can be implemented in a multitude of real-world scenarios, and below, we shall scrutinize a few of them.
1. Dividing a website's content by topic
In the grand scheme of website design, organizing and structuring content is paramount. One way to achieve this is by utilizing the content segmentation grid, which enables you to bifurcate your content into different categories or sections. By way of illustration, you could demarcate a section for blog posts, a section for product pages, and a section for landing pages.
2. Segmenting a sales page by the audience
Should you be in possession of a sales page, it may behoove you to segment it by audience. This implies that you would proffer distinct iterations of the page, each tailored to specific types of buyers. To explicate, you could have a version aimed at first-time buyers, a version for repeat buyers, and a version for those seeking additional information.
3. Dividing an email list by interests
When managing an email list, it's prudent to consider segmenting it by interest. This will enable you to craft unique emails for different types of subscribers. To illustrate, you could create a version for those keen on discounts, a version for those drawn to new products, and a version for those attracted to events.
4. Creating a social media strategy
The process of creating a social media strategy necessitates an astute consideration of the various content types you'll be sharing. One approach to this is to segment your content by platform, ensuring that you share different content types on Facebook than you would on Twitter.
5. Targeting ads by audience
Similarly, when devising an advertising campaign, it's imperative to cogitate on your target audience. You may want to segment your ads by a slew of variables, such as age, gender, location, or interests, to ensure that your ads are well-suited and precisely aimed.
The content segmentation grid is a multifaceted tool that can be employed in a plethora of ways to segment and target your content successfully.
6. Product assortment planning
Filter or segment the products by category, price, or brand, among all other factors, to make it easy for users to navigate and rack the products like in shelves on your platform.
7. Customer segmentation
Likewise, customer segmentation also helps you to sort customers based on several groups and shared practices or characterstics of the customers, such as age, location, gender, category, inetersts, etc.
8. Market segmentation
Finally, market segmentation helps to divide the market users such as with age, gender, etc, like the above but for the particular industry. Like in an incense brand, people of all ages buy incense sticks, but most preferably customers with religious interests, female, and more.
Whichever method you choose to leverage when employing a content segmentation grid, it is imperative that the approach aligns with the overarching business objectives. For instance, if the goal is to augment website traffic, then segmenting content by topic might be a judicious option to pursue. Conversely, if the aim is to bolster sales, then segmenting content by audience might be more in line with achieving this objective.
Conclusion
In order to fashion a content segmentation grid, there are myriad factors that must be taken into account. First and foremost, consideration must be given to the overall business goals. What are you aiming for wiht the content? Moreover, who are your audience? I.e who do you want to connect with through your content? And finally, the different types of content that you want to post must also be thought of. By bearing all of these considerations in mind, it is possible to generate a grid that is in sync with your overarching business objectives, and that will facilitate the segmentation and targeting of your content in a highly effective manner.
Hopefully, this article has been an enlightening and beneficial read for you. If you have any questions or concerns, please don't hesitate to drop a comment below. And if you're keen to learn more about content segmentation, or would like to explore the implementation of a content segmentation grid for your business, do check out our other articles on this topic, or get in touch with 12channels today to take advantage of our top-notch content marketing services.