Introduction
The domain of digital entrepreneurship has witnessed a colossal surge in the popularity of affiliate marketing as a lucrative medium of income generation. Essentially, it involves the promotion of a third-party product or service, with any resultant sale attracting a commission.
In the multifarious landscape of affiliate marketing, the efficacy of an affiliate tracking system cannot be overstated. This mechanism facilitates the monitoring of all affiliate transactions and serves as the bedrock of any successful affiliate marketing campaign. A plethora of tracking software options exist, each with its own unique features and benefits.
The process of selecting the most suitable tracking software for your affiliate marketing business is a multifaceted endeavor that involves careful evaluation of various factors such as compatibility, reliability, scalability, and efficiency. As such, in this comprehensive guide, we delve into the intricacies of affiliate tracking, explore the diverse software alternatives at your disposal, and proffer expert advice on how to make an informed decision when selecting the best tracking software for your business needs.
What Is Affiliate Tracking?
The intricacies of affiliate tracking are of utmost importance, for they facilitate the attribution of sales and leads to their rightful creators. A quintessential aspect of any business strategy is to determine which affiliates are generating the most sales or leads, as this crucial information enables the establishment of commission payouts in a just manner. The tracking of affiliates can be accomplished through a multitude of methods, but the most widely employed approach is through the use of cookies.
Cookies, the bedrock of affiliate tracking, are tiny samples of data that are covertly stored on a user's computer when they peruse a website. Once an affiliate propels traffic to a merchant's website, a cookie is dispatched to the user's computer, carrying pivotal information about the affiliate. This cookie is then leveraged to monitor any sales or leads that might be precipitated by the user.
In addition to cookie-based tracking, there are several other techniques that can be utilized to trace the actions of affiliates. These encompass IP tracking, pixel tracking, and parameter tracking.
Why Is Affiliate Tracking Important?
The indispensability of affiliate tracking cannot be overemphasized, as it enables businesses to discern which affiliates are the main drivers of sales or leads. This invaluable data serves as an axis upon which commission rates can be strategically adjusted, while simultaneously aiding in the identification of the crème de la crème of affiliates, who display unparalleled prowess in promoting the business's products or services.
How Does Affiliate Tracking Work?

The complex yet essential process of affiliate tracking engenders the attribution of sales or leads, painstakingly generated by affiliates, to their rightful owners. The quintessence of this meticulous process hinges on identifying the most effective affiliates responsible for generating the most sales or leads. To facilitate this, various techniques can be employed, including the universal employment of cookies, along with other more intricate methods like IP tracking, pixel tracking, and parameter tracking.
Getting Started With Affiliate Tracking
If the idea of delving into the exhilarating world of affiliate tracking intrigues you, then there are a few preliminary steps that you must undertake. Firstly, you need to register with an affiliate network. Beware, for there are several affiliate networks out there, each with their own idiosyncratic rules and regulations. Hence, it behooves you to meticulously scrutinize the fine print before making any commitments.
Once you've signed up with an affiliate network, you'll need to seek out a suitable merchant that avails an affiliate tracking system. This process can typically be achieved through the affiliate network's website. Having identified a merchant, you'll need to create an affiliate account with them. As with any business venture, it is imperative to peruse the terms and conditions with the utmost scrutiny before pledging your allegiance.
Now that you've successfully navigated the labyrinthine maze of affiliate networks and secured a merchant, it's time to roll up your sleeves and commence promoting their products or services with indefatigable gusto. As sales or leads are generated, the relevant affiliate will be appropriately credited for their endeavors.
Affiliate Tracking KPIs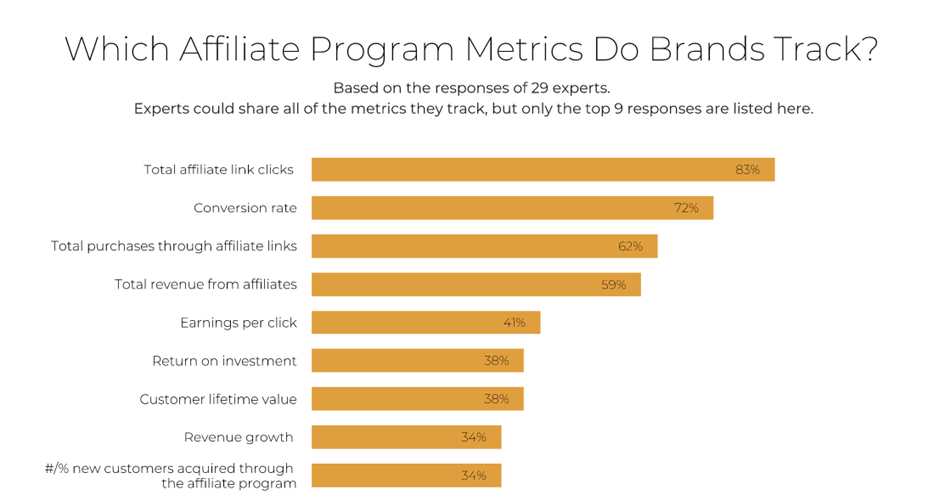 There are several different KPIs that you can track when running an affiliate marketing campaign.
1. Percentage of visitors that take the desired action: This KPI measures the percentage of visitors that take the desired action, such as making a purchase or signing up for a newsletter.
2. Cost per lead: This KPI measures the cost of generating a lead through affiliate marketing.
3. Earnings per click: This KPI measures the earnings generated from each click on an affiliate link.
4. Conversion rate: The conversion rate, an all-important KPI, quantifies the percentage of visitors to a website that, like a pied piper, willingly follow the desired action of making a purchase or subscribing to a newsletter.
5. Click-through rate: The click-through rate, another ubiquitous KPI, gauges the percentage of people that, with a click of a button, make a foray into the unknown territory of an affiliate link.
6. Average order value: The average order value, a powerful KPI, reveals the numerical average of the value of sales that are catalyzed through the effective mechanism of affiliate marketing.
7. Return on investment: Return on investment, a KPI of utmost significance, provides an insightful metric to determine the profitability of an affiliate marketing campaign by comparing the revenue generated with the expenses incurred.
8. Cost per acquisition: Cost per acquisition, yet another significant KPI, measures the cost of acquiring a customer through the affiliate marketing process. This KPI sheds light on the efficacy and efficiency of the entire affiliate marketing endeavor by calculating the cost of acquisition per customer.
9. Lifetime value of a customer: And, finially, LVC KPI measures the lifetime value of a customer that is acquired through affiliate marketing.
Though there are several KPIs, tracking the main three—cost per lead, conversion rate, and return on investment—will give you a good idea of the overall performance of your affiliate marketing campaign.
Affiliate Tracking Softwares Available In The Market
There are several different affiliate tracking software available in the market. Here is a list of some of the most popular options:
1. HasOffers:
This software provides marketers with real-time data and powerful reporting tools.
Has offers pricing models: Has offers has 3 pricing models: Enterprise, professional, and custom.
Enterprise Model: $799/month, Professional Model: $279/month.
For custom pricing information visit hasoffers or contact professionals.
2. Cake Marketing:
This software provides marketers with powerful tracking tools and reporting dashboards.
Cake Marketing pricing models: Cake marketing has 2 pricing models: Standard and enterprise.
Standard: $49.99/month, Enterprise: $499.99/month.
For more information visit cakemarketing
3. HitPath:
This software provides marketers with robust tracking capabilities and reporting tools.
HitPath pricing models: HitPath has 2 pricing models: Standard and Enterprise.
Standard: $149/month, Enterprise: $499/month
For more information visit hitpath
4. Post Affiliate Pro:
This software provides marketers with a wide range of features and tools.
Post Affiliate Pro pricing models: Post Affiliate Pro has 4 pricing models: Starter, basic, professional, and ultimate.
Starter: $97/month, Basic: $197/month, Professional: $297/month, Ultimate: $497/month. Visit postaffiliatepro for more information on their features and pricing plans.
5. Refersion:
This software provides marketers with powerful tracking tools and reporting dashboards.
Refersion pricing models: Refersion has 3 pricing models: Standard, professional, and enterprise. Standard at $99/month, Professional at $399/month, and enterprise contact Refersion for a custom quote. Visit Refersion for more information on their services.
Whichever software you choose to use, remember that many factors go into choosing the best affiliate tracking software. It depends on several factors, those we will discuss in the next section.
How To Choose The Best Affiliate Tracking Software
There are several different affiliate tracking software options available, and it can be difficult to choose the best one for your business. Here are a few things to consider when choosing affiliate tracking software:
1. Ease of use: The software should be easy to use and understand.
2. Reporting: Get a software that helps you to get a detailed report on the parameters of the campaign to measure the success of the campaign efficiently.
3. Integration: Integration, a paramount factor to consider, lies at the crux of the software selection process. It is imperative that the chosen software integrates flawlessly with your existing website and other marketing tools to avoid any unwarranted disturbances.
4. Support: Support, an equally important factor, unequivocally necessitates that the chosen software is backed by an exceptional customer support team that can resolve any issues or glitches that may arise during the course of your affiliate marketing campaign.
5. Price: Price, yet another critical factor, exerts a significant influence on the selection of the ideal software. The software should be reasonably priced, ensuring that it offers an exemplary value proposition with an impressive feature set.
Determining which of these factors rank highest on your priority list is crucial to simplify and streamline the software selection process, enabling you to make an informed decision that is tailor-made for your business requirements.
Now that you have a comprehensive understanding of what affiliate tracking is, how it works, and the different types of software available, it's time to delve into the myriad of challenges faced during affiliate tracking, and explore viable workarounds to overcome them.
Affiliate Tracking Challenges
It is important to know the few obstacles that may hinder your path to steer clear of as such challenges when encountered:
When it comes to affiliate marketing, there are various roadblocks you may face. One of these obstacles is the length and intricacy of affiliate links, which can be cumbersome to remember. To circumvent this issue, experts suggest using a URL shortener that can condense the links to a more manageable size.
Another challenge is the daunting task of distinguishing yourself from the swarm of other affiliates vying for the same audience within your niche. To carve out your space in the market, you could consider creating a personal blog or website that showcases your unique selling proposition, thereby enabling you to stand out from the horde of competitors.
Being patient is a critical virtue while setting up an affiliate marketing campaign, as it takes time to build a following and generate sales.
Competition from other affiliates can be a significant challenge, necessitating that you focus on promoting products or services that are unique and not readily available elsewhere.
Fraud is a common and notorious challenge encountered in affiliate tracking, where affiliates resort to generating fake traffic or clicks to generate sales. Using a reliable affiliate tracking software with advanced fraud detection capabilities is critical to safeguard your business interests.
By adopting these strategies, you can successfully overcome any challenges that may arise during your affiliate tracking journey, paving the way for a successful and rewarding affiliate marketing campaign.
FAQs on Affiliate Tracking
1. Is affiliate tracking effectively?
The efficacy of affiliate tracking as a tool for tracking the performance of your affiliate marketing campaigns cannot be gainsaid. By leveraging software, you can effortlessly monitor sales, clicks, and conversions, thus enabling you to gain a granular understanding of which affiliates are in the vanguard of success and which ones are languishing in the low spirits of mediocrity.
2. Is there a free affiliate tracking software?
While it is true that a few free affiliate tracking software alternatives exist, the salient point to note is that these options may not offer the same level of comprehensive features and reporting as their paid counterparts. Thus, if you desire a holistic solution that unlocks the full potential of your affiliate marketing endeavors, it's prudent to opt for a paid option.
3. When should I start using affiliate tracking?
As a savvy affiliate marketer, it's imperative to start using affiliate tracking the moment you launch your affiliate marketing campaign. By doing so, you can gain valuable insights into the performance of your affiliates, enabling you to make data-driven decisions and course-correct as needed to enhance the efficacy of your campaign.
4. How can I solve fraud while affiliate tracking?
Fraudulence is an insidious issue in affiliate tracking that can seriously jeopardize the triumph of your marketing endeavor. To counteract this, you can employ dependable software that integrates state-of-the-art fraud detection features, empowering you to promptly pinpoint and eliminate any affiliates who are involved in questionable practices.
5. Is there a mobile app for affiliate tracking?
In today's mobile-dominated world, it's reasonable to inquire about the availability of mobile apps that can aid in tracking your affiliate marketing campaigns. And though it's factual that some mobile apps exist for this purpose, it's imperative to recognize that these apps may offer restricted features and reporting capacities. To attain a more comprehensive and sturdy solution, you may have to choose a paid option that endows you with extensive and all-inclusive functionalities.
Conclusion
Affiliate tracking is an indispensable tool that can greatly enhance your marketing campaigns and drive sales and conversions. It's important to have a solid understanding of what it entails, how it functions, and the various software options available to make an informed decision that aligns with your business objectives. Additionally, it's crucial to surmount any obstacles you may encounter at the outset, such as fraudulent activities or fierce competition.
By implementing a trustworthy affiliate tracking software solution, you can competently scrutinize your marketing endeavors and enhance overall performance. At 12 Channels, we provide a personalized and all-encompassing affiliate tracking solution that can augment your revenue streams. Don't delay in contacting us to discover more about our exceptional services and how we can assist you in realizing your affiliate marketing aspirations.