Introduction
In the domain of online marketing, the supremacy of content reigns supreme. Hence, any triumphant digital marketer requires a well-structured content marketing strategy. Nevertheless, the mere act of generating and disseminating content does not suffice. Rather, you necessitate a content marketing calendar to aid in your management and ensure you stay on the right trajectory.
A content calendar is a dynamic instrument that enables you to formulate, fabricate, and broadcast your content in an orderly manner. Furthermore, it empowers you to keep track of your advancements and evaluate your outcomes.
Within this comprehensive guide, we shall demonstrate how to produce a content marketing calendar that shall enable you to attain your marketing objectives.
Why You Need A Content Calendar
If you're serious about content marketing, then you need a content calendar. A content calendar will help you to:
Draft your content in advance
Stay organized and on track
Measure your results
Achieve your marketing goals
Creating Your Content Calendar
When it comes to organizing content creation process, there are many tools that can help you complete the task successfully. But, depending on your goals, budget, and time frame, you will need to decide, whether you should a tool as simple as a spreadhseet, a project management tool, or a dedicated content calendar tool. The choice is yours.
Using a spreadsheet for Content Calendar:
Beginning with the good old tool spreadsheet, Google Sheets and Microsoft Excel are among the most popular choices for creating content calendars due to their ease of use and flexibility. However, some may find the simplicity of a spreadsheet limiting. Despite this, spreadsheets offer a straightforward way to create and share a content calendar with team members.
Using a Project Management Tool for Content Calendar:
When it comes to content calendars, implementing a project management tool can greatly enhance your efficiency. In fact, if you're already utilizing tools such as Asana or Trello, it's a breeze to erect a content calendar within either of these platforms. By adding tasks, due dates, and relevant specifics to each task, while also allocating said tasks to your team members, you can streamline your content marketing operations.
How to use a Project Management tool for Content Calendar:
To achieve this with Asana or Trello, simply generate a new project and include a task for each piece of content you intend to create. I.e, if you want to create a blog, you can include a task for "write a blog post" and also include post title, due date, and additional elements as you wish to the tool.
Oncecompleted, assign these details to the relative team members and establish due dates. Furthermore, you can attach comments and attachments to each task, facilitating seamless communication and collaboration.
Using a dedicated content calendar tool:
On the other hand, if you're seeking a specialized content marketing calendar tool, several options are at your disposal. For instance, CoSchedule is a prevalent choice that commences at a monthly fee of $10.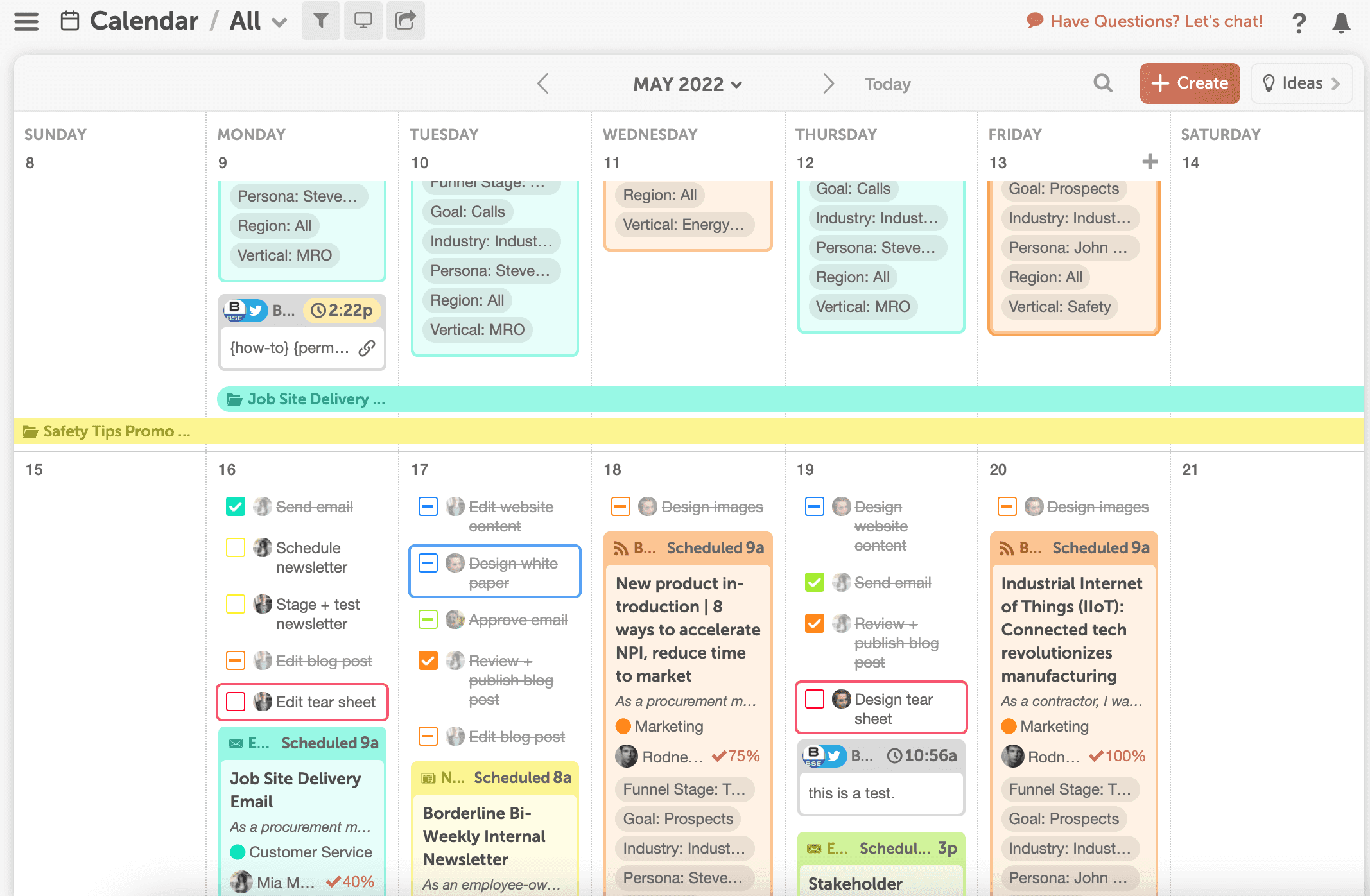 How to use CoSchedule as a Content Calendar:
1. Create a free account and sign in to your account.
2. Click on the "New Calendar" button.
3. Give your calendar a name and description.
4. Choose a time zone and start date.
5. Add events to your calendar by clicking on the "Add Event" button.
6. Include all relevant event details, such as the title, date, time, location, and description.
7. Save your calendar and share it with others by clicking on the "Share" button.
8. Your calendar is now ready to use!
Another option is MyContentCalendar, which starts at $49 per month.
How to use MyContentCalendar as a Content Calendar:
1. Create a free account and sign in.
2. Click on the "Create Calendar" button option.
3. Choose a start date and end date for your calendar.
4. Select the content type (i.e blog post, social media update, etc.) to add each day.
5. Enter the title, URL, and other details for the content created.
6. Click "Save" button.
For those individuals seeking to regularly generate and distribute content, MyContentCalendar serves as an excellent solution. The user-friendly nature of the platform ensures ease of use and facilitates an organized and consistent approach to content creation.
Upon making a determination regarding the selection of a tool, the initiation of the content calendar creation process becomes inevitable. Irrespective of the methodology opted for, several pivotal constituents must find a place in your content calendar:
Begin by identifying your target audience, and tailor your content towards their preferences. For instance, if you're targeting millennials, you may want to cover topics such as the latest social media trends.
Your content calendar should also outline the specific goals you aim to achieve with your content. By setting clear objectives, you can effectively measure the success of your content. If, for example, you're looking to increase brand awareness, track the number of shares and views your content receives.
Brainstorming content ideas is another crucial aspect of your content calendar. Each idea should come with a brief description and its intended audience. This allows you to stay organized and tailor your content towards specific demographics effectively.
In addition to content topics, you should also choose a publishing date that provides ample time for editing and promotion. This ensures that your content reaches its intended audience at the right time, leading to greater engagement and a higher chance of conversion.
Finally, including a call to action in your content encourages your readers to take action after consuming your content. This allows you to measure how effective your content is at converting readers into leads or customers.
As you create new content, ensure that you update your content calendar regularly to track your progress and ensure that your content aligns with your evolving business goals.
Promoting Your Content

As you conclude the content creation process, it's critical to devise a robust content promotion strategy. To get the best results, consider employing several techniques such as:
Social media platforms offer a prodigious opportunity to flaunt your content to your target audience. The likes of Twitter, Facebook, and LinkedIn present viable options for you to showcase your work. Alternatively, employing a social media calendar can come in handy to aid you in planning your content and scheduling your posts with appropriate variations in sentence structure.
Moreover, sustaining a comprehensive content calendar is fundamental to the success of your content marketing endeavors. This includes keeping tabs on content creation, publishing dates, and any amendments made to the calendar. This allows you to remain systematized and pinpoint any requisite alterations to your content marketing strategy.
Encompassing a blog into your website is an efficacious way of disseminating your articles. Additionally, harnessing email marketing tools to disseminate articles to your mailing list ensures that your content reaches a broader audience.
Content syndication is another stratagem that can augment your reach and bolster your standing in your industry. Submitting articles to content syndication sites like Medium and LinkedIn Pulse can prove immensely advantageous.
Email marketing can also prove highly efficacious in publicizing your content. By transmitting emails to your list with links to your latest articles, you escalate the likelihood of generating traffic to your website.
Lastly, splurging on paid ads on Google and social media platforms can escalate the visibility of your content. Also, securing features of your content on preeminent industry websites and blogs is a great way to accrue visibility and stimulate engagement.
To sum up, when promoting your content, it's crucial to cherry-pick techniques that align with your business objectives and goals. By incorporating a good amount of perplexity and burstiness into your promotion strategy, you can enhance the efficacy of your content marketing efforts.
Tracking Your Results
Upon completion of your content calendar creation, it becomes imperative to monitor your outcomes. Doing so will enable the measurement of your progress and the consequent implementation of requisite alterations to your strategy.
In order to track your outcomes, vigilant attention must be paid to the following parameters:
Your traffic figures: This indicator will signify the quantum of individuals who peruse your content.
Your engagement figures: This parameter will portray the extent of involvement exhibited by the individuals towards your content. Are they disseminating it? Providing comments?
Your conversion numbers: This will tell you how effective your content is at converting readers into leads or customers.
By tracking these key metrics, you'll be able to see what's working and what's not.
Tools To Help You Track Your Results
The landscape of tools available for monitoring content marketing outcomes is diverse and includes:
Google Analytics: This tool, which comes with no cost, facilitates the tracking of website traffic and determining the origin of readers.
BuzzSumo: This tool, which involves a cost, provides a bird's-eye view of the popularity of your content and details regarding those disseminating it.
Hootsuite Insights: This tool, which entails a cost, furnishes comprehensive insights pertaining to your social media performance.
Clarabridge: This tool, which requires a fee, helps track and analyze customer sentiment.
Irrespective of the tools utilized, keeping a close eye on the outcomes is a critical aspect of content marketing strategy execution. Failure to do so can jeopardize the attainment of success.
Making Adjustments
The observation and analysis of your outcomes could potentially lead to the need to recalibrate your content calendar.
In cases where desired traffic volumes are not being realized, it may be prudent to intensify the promotion of your content. In contrast, if engagement numbers are lacking, reassessing the content topics may be necessary.
Revisions and modifications to the content calendar constitute an organic part of the content marketing process. By exercising caution and being attentive to outcomes, necessary changes can be made, ensuring the proper trajectory of your content marketing strategy.
Conclusion
A content marketing calendar represents a valuable and indispensable tool for every online marketer who desires to plan, create, and publish their content in a structured manner. Additionally, this calendar can assist with monitoring progress and assessing outcomes.
In the event that content marketing is an area that you are serious about, it becomes evident that a content marketing calendar is a necessary ingredient. To create such a calendar that will serve your marketing goals well, the guidelines laid out in this guide should be helpful. Should you require assistance in setting up your calendar, the option of employing an agency to take care of it for you and avail a content marketing calendar is available.
It is worth mentioning that reaching out to our knowledgeable subject matter experts at 12 channels may also prove beneficial to you. Should you desire help with content marketing, feel free to schedule a call with us.