Introduction
Social media optimization (SMO) is a multifaceted process that revolves around enhancing the visibility and awareness of a website or web page across diverse social media platforms. It enables businesses to gain an in-depth understanding of the intricate nuances of social media platforms and leverage them to their benefit. At its core, SMO entails crafting and curating high-quality content that is both engaging and informative, fostering and nurturing meaningful connections with customers and followers, and spearheading strategies that generate an influx of traffic to your website.
This comprehensive guide serves as a roadmap to equip you with the requisite knowledge and skills to execute each of these crucial steps with poise, culminating in a successful SMO campaign that puts your brand at the forefront of the social media landscape.
What Is Social Media Optimization?
It's not enough to just have a presence on social media – you need an active, engaging strategy that capitalizes on the power of these channels. This means designing your content with what audiences expect in mind and using specific keywords so they can find you when it suits them most: whether through search engines or personalizing recommendations based on browsing behavior!
This is where social media optimization comes in. It is the process of increasing your website's visibility and awareness on social media platforms like Facebook, Twitter, etc., which can help you better understand how to utilize these channels as well! SMOs are all about creating quality content; building relationships with customers/followers by driving traffic towards our products – it doesn't get much more satisfying than this does it?
Social media optimization, a multifaceted digital marketing strategy, encompasses more than just making your website more visible to potential customers. Indeed, paid advertising and lead generation tactics are integral components of SMO that can help establish a database of interested individuals ripe for future direct marketing efforts.
How To Do Social Media Optimization?
Produce high-quality, shareable content: Content is the king, yes, but merely churning out informative content isn't enough. To truly stand out from the crowd, your content must also be engaging, entertaining, and leave a lasting impression on your audience. So, make sure to infuse your personality and creativity into your content, and don't shy away from taking calculated risks to break the mold and set yourself apart from the competition.
Utilize relevant keywords: Incorporate pertinent keywords in your social media profiles and updates, so that your content is easily visible when people are searching for topics related to your field.
Maintain a consistent posting schedule: Inconsistency is detrimental when it comes to social media. To help people remember your brand and visit your site, you should often update your site with new content that is both engaging and educative.
Interact with your audience: Ask feedbacks, respond to comments, answer to queries, and help people stay in touch with you and your brand to maintain strong relationships and not let customers feel neglected.
Incorporate social media plugins: Plugins help users to navigate to your social media page and help amass attention and visibility to your brand.
Promote your content: Use PPC or paid advertising to promote your most popular posts on social media to help your content reach wider audiences and increase the likelihood of content being shared.
Monitor your progress: Keep track of your social media metrics to evaluate how your content is performing. This aids in adjusting your strategy as necessary, ensuring that you remain on track to attain your objectives.
Optimizing your social media presence is critical for any marketing strategy. By following the tips outlined above, you can ensure that your social media presence is optimized for maximum impact!
Why Social Media Optimization Is Important?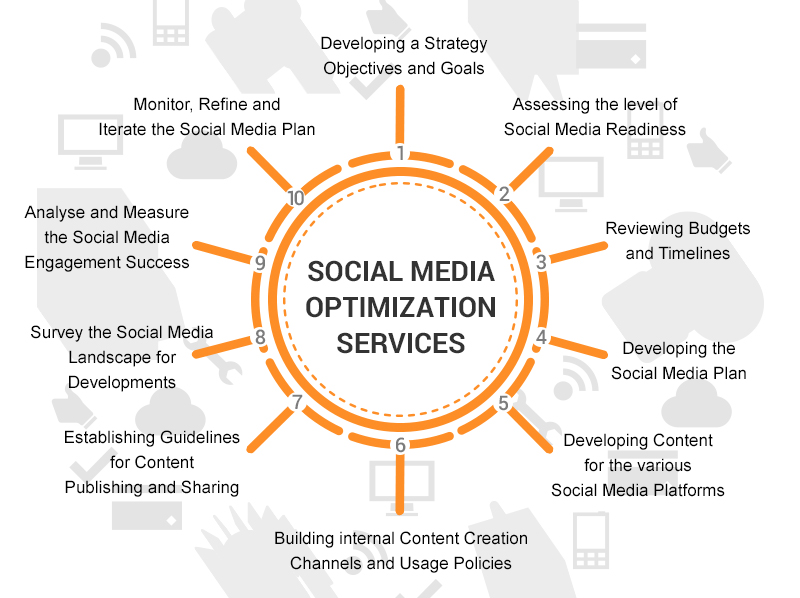 As an emerging business enterprise endeavoring to make a dent in the fiercely competitive market, it is of utmost importance that you establish your visibility and maintain it, if you are already a well-entrenched business. With an astonishingly large number of over 3 billion people frequenting social media each month, it would be a grave mistake to turn a blind eye to this platform.
It is not merely a question of the vast audience that social media provides access to, but rather the unparalleled precision in targeting specific demographics that makes this platform a unique force to be reckoned with. Facebook, for instance, confers upon you the ability to meticulously sift through users based on their interests, demographics, and even behaviors, thereby ensuring that your content is channeled towards those who are most likely to be attracted to it.
Similarly, LinkedIn enables you to pinpoint users based on their job titles, company sizes, and sundry other factors, thereby rendering it an ideal platform for businesses that aspire to generate leads from a professional audience.
To put it succinctly, optimizing social media is crucial since it facilitates an effective and efficient means of reaching your target audience. By crafting content of quality and targeting particular demographics, you can guarantee that your message is received by those who are most likely to be drawn to it.
Moreover, social media avails you the opportunity to establish meaningful relationships with your target audience. By interacting with your followers and supplying them with invaluable content, you can cultivate a devoted following that will be interested in whatever you have to say.
Who doesn't like some extra business?
There you have it! These are merely a smattering of the manifold reasons why social media optimization holds such an indispensable value. If, perchance, you are not already harnessing the wondrous potential of social media to promote your business, it is time to initiate that process without delay. On the other hand, if you are already taking advantage of this platform, it requires you to make certain that you are doing so in the most effective way conceivable, and to this end, it would be judicious to stay the course and remain glued to the present article till the very end.
Social Media Optimization vs Search Engine Optimization

The disparity between SMO and SEO is undeniable, albeit not entirely set in stone. In essence, both SMO and SEO are viable methods for augmenting traffic originating from SERPs (Search Engine Results Pages) and social media platforms, respectively, although their goals diverge somewhat.
Primarily, SEO is concentrated on securing a higher rank in SERPs for relevant keywords, while SMO is geared towards forging relationships and engaging with current and potential customers.
SEO's attention is set on optimizing website content for search engines, while SMO fixates on fabricating high-quality content that will pique the interest of social media platform users.
As far as driving traffic is concerned, SEO encompasses all sources, including paid and organic search results, whereas SMO concentrates on driving traffic from social media platforms.
Unlike SEO, SMO can be either a short-term or long-term strategy, while SEO is predominantly a long-term tactic.
SEO aims to enhance website visibility, while SMO strives to increase the visibility and engagement of a brand or company.
The optimization of social media is a complex matter that requires a multifaceted approach to the creation of high-quality content that is tailored to your intended audience. Also, create content in such a way that it is both engaging and informative that compels users to share across social media.
For instance, if your target marketing strategy includes Facebook advertising, then focus on visually attractive and consumable content, including color theories, with blend of images, reels, music, etc that quickly set a trend.
On the other hand, for Linkedin, the content you create should be professional given your target audience. White papers, case studies, and research reports are great examples of the kind of content that would be suitable for LinkedIn.
Irrespective of the platform you use, the critical objective is to create content that resonates with your target audience, is of high quality, and is genuinely interesting. Only then can you begin to engage your followers, build a robust relationship with them, and achieve your social media optimization goals.
The Benefits Of Social Media Optimization
In utilizing SMO, you harbor specific objectives for your business. But what exactly are these objectives, and how does SMO facilitate their attainment?
1. Increase brand awareness
Foremost among these goals is the amplification of brand awareness. By crafting high-quality content and interacting with your intended audience, you can ensure that more individuals are exposed to your brand. A greater number of people aware of your brand means more transactions with your business.
2. Drive traffic to your website
The second aspiration of SMO is to propel traffic to your website. By crafting content that is easily shareable and engaging with your followers, you can encourage them to visit your website. Once on your website, you can then convert these visitors into customers or clients.
3. Improve search engine rankings
Another objective of SMO is to improve your search engine rankings. Social media signals are now being used by major search engines, including Google, to rank websites. Therefore, the more engagement your social media posts receive, the higher your website will rank in SERPs.
4. Generate leads and sales
Generating leads and sales is a paramount objective of any business, and can be achieved by means of creating top-notch content, engaging with your followers, and directing traffic to your website, thereby prompting individuals to transact with you.
5. Improve customer satisfaction
Moreover, SMO seeks to improve customer satisfaction by means of fostering meaningful interactions with your patrons, and furnishing them with superlative content, which would ensure their loyalty towards your brand.
10 Social Media Optimization Strategies
Now that you have grasped the intricacies of social media optimization, it is high time to dig into the diverse SMO strategies at your disposal, each boasting a unique set of benefits to accomplish your goals.
1. Forge connections with external websites
Without a doubt, linking to external websites is one of the most efficacious strategies to pursue. Why? Simple: When you share top-notch content from other websites, you are endowing your followers with a sense of added value. As a result, they will likely flock to your website in droves.
2. Leverage social sharing buttons
If you are seeking to augment the traffic to your website, then you should consider implementing social sharing buttons. With these buttons, you are rendering it a cinch for individuals to disseminate your content among their followers.
3. Create shareable content
Recall that we stressed the importance of generating superior content earlier. Creating shareable content is indeed paramount if you yearn for people to circulate your content. Therefore, your content should be interesting, informative, and shareable in nature.
4. Use trending hashtags
A fantastic approach to amplifying the reach of your content is to incorporate relevant and trendy hashtags. By doing so, you are simplifying the process for people to discover your content based on their recent activity.
5. Foster engagement with your followers
Stay ahead of the curve by being responsive to user comments and questions.This way make sure you are creating strong relationships with your followers, that can pay dividends in the long run.
6. Use images and videos
Images and videos are likely to grab attention quickly than a plain video that has nothing to offer visually. Of all senses, visual appeal is what people look for the most, and with attractive videos you are much more likely to pique the interest of your followers and compel them to share your content.
7. Run contests and giveaways
Moreover, running contests and giveaways is another potent tool in your arsenal to ramp up engagement on social media. By providing attractive prizes, you can incentivize people to disseminate your content and attract new followers to your profile.
8. Offer discounts and coupons
On top of that, discounts and coupons are a powerful means of boosting traffic to your website. By offering special promotions, you can tempt people to avail of your products or services, and thereby augment your sales.
9. Partner with other businesses
Collaborate with other businesses that have niche in the market or have a larger base of following and cross-promote your products to reach wider audiences.
10. Advertise on social media
Last but not least, advertising on social media is a tried-and-true technique to drive traffic to your website. By targeting your ads to specific demographics and interests, you can maximize the efficacy of your ads and optimize your reach.
Bonus tip: The integration of social media optimization into your business can be a fruitful venture, as it can amplify website traffic and generate leads and sales. To ensure that your business is effectively utilizing social media, consider implementing the following ten strategies.
Additionally, maintaining an up-to-date and comprehensive bio on your social media profiles can provide users with a direct pathway to your website by clicking on the embedded link.
Common Myths About Social Media Optimization (SMO)
1. SMO is only for big businesses
Regardless of your business's size, social media optimization can aid in increasing traffic and generating leads.
2. SMO is too time-consuming
While social media optimization does take some time, it is well worth the effort. The benefits outweigh the time it takes to implement these strategies.
3. SMO is only for B2C businesses
Whether your's is a B2B or B2C, SMO is equally popular among businesses of all types.
4. SMO is only for marketing purposes
Despite marketing purposes, SMO can also be used for sales and customer service, and in various other promotional strategy.
5. SMO is only for a few social media platforms
SMO is not restricted to a few social media platforms but includes all existing social media platforms, such as Pinterest, Reddit, Snapchat, and more.
Examples of Social Media Optimization
Have you ever found yourself pondering over the intricacies of social media optimization and its practical applications? Well, wonder no more as we explore some brands that have successfully utilized social media optimization to propel their businesses to the forefront of their respective industries.
1. Nike
First on our list is the iconic global brand, Nike. Renowned for its cutting-edge sportswear and trendy fashion items, Nike has leveraged social media optimization to enhance its brand reach and appeal. With a plethora of eye-catching images, captivating videos, and exciting contests, Nike's social media accounts are a treasure trove of engaging content that keeps its audience hooked.
Not content with just that, Nike also collaborates with other businesses and amplifies its reach by sharing its content across various platforms.
2. Penguin Books
When it comes to mastering the art of social media optimization, Penguin Books is a brand that has truly nailed it. As a trailblazer in the domain of literature, Penguin Books has successfully adapted to the digital age by creating captivating content that strikes a chord with its audience. Their social media accounts are true wealth of engaging material, ranging from book recommendations to exclusive author interviews and riveting contests that keep their followers hooked and yearning for more.
Other giants in various industries, such as HubSpot, Coca-Cola, and Starbucks, have also employed social media optimization to build their brands and stay ahead of the curve. With the right approach and strategies outlined in this guide, your brand too can harness the power of social media optimization to unlock new heights of growth and success.
Conclusion
Now that you have gained an in-depth understanding of social media optimization and debunked some of the myths surrounding it, you can confidently implement these strategies to steer your business towards growth and prosperity.
However, SMO is a continually evolving strategy and businesses should remain alert to the trends and changes in technology and the advent of new social media platforms. With each new trend and strategy in the ddomain of social media optimization, there are new opportunities to expand brand visibility and reach new customers. So, it is essential to stay ahead of the curve and incorporate the latest developments into your business strategy.
If you find yourself in need of assistance to jumpstart your SMO efforts, fear not, for 12 Channels is here to help. As a digital media agency with specialized expertise in SMO, we can help you develop a comprehensive social media strategy that aligns with your business goals and objectives. Contact us today, and let's embark on a journey of growth and success together!