Introduction
The expeditious nature of customer service has become increasingly critical in today's fast-paced world, where time is of the essence. Customers, being the linchpin of any business, expect a prompt response to their queries; however, delays in response often lead to impatience and dissatisfaction. Autoresponder chatbots, being an innovative solution, can bridge this gap by providing an immediate response to customer inquiries, even beyond the conventional business hours, thereby mitigating customer discontentment.
To that end, this guide aims to provide you with an in-depth understanding of the process involved in creating and setting up an autoresponder chatbot for your business. By following our comprehensive steps, you can effectively optimize your customer service experience, improve customer retention, and foster brand loyalty.
What is an autoresponder chatbot?
At the forefront of technological advancement lies the innovative solution of autoresponder chatbots – a chatbot that functions autonomously, providing customers with swift responses to their inquiries, even beyond the conventional business hours. By implementing this state-of-the-art system, businesses can ensure that their customers receive timely responses to their queries, regardless of the availability of the business owners or representatives.
The practicality of autoresponder chatbots in ensuring prompt customer service cannot be overemphasized. By providing your customers with an immediate response to their inquiries, even when you're not available to address them yourself, you can effectively optimize customer satisfaction, improve customer retention, and foster a sense of loyalty towards your brand.
Why is an autoresponder chatbot important?
At the crux of customer satisfaction lies the quintessential role of autoresponder chatbots, as they serve as the bedrock of an enhanced customer experience. The significance of this cutting-edge technology lies in its ability to promptly respond to customer queries, thereby reducing the waiting time and instantly providing customers with the requisite information they seek.
With the seamless integration of autoresponder chatbots into your customer service system, the benefits of expedited response time are innumerable. As customers no longer have to wait for a human agent to become available, the likelihood of resolving their issues becomes higher, and customer retention is optimized. The tangible benefits of implementing this novel technology include improved operational efficiency, increased customer loyalty, and enhanced brand reputation.
How does an autoresponder bot work?
Revolutionizing the customer service experience, autoresponder chatbots operate on the premise of automation, obviating the need for human intervention. These cutting-edge bots operate seamlessly by employing algorithms that automatically respond to customer queries. Consequently, businesses no longer need to be available 24/7 to cater to the needs of their customers, as the chatbots assume the responsibility of providing prompt responses.
For instance, suppose a customer has a query regarding your business hours and sends a message to your WhatsApp number. In that case, the autoresponder chatbot, employing its remarkable capabilities, will promptly respond within your business hours, providing the requisite information.
This represents just the tip of the iceberg of the extensive benefits of implementing autoresponder chatbots into your business operations. These bots can be programmed to perform an array of functions, from providing information about your products to answering common customer queries and beyond. By embracing this state-of-the-art technology, businesses can achieve an optimal customer service experience, enhance customer satisfaction, and ultimately bolster their brand reputation.
How to create an autoresponder chatbot Using A Chatbot Builder
The creation of an autoresponder chatbot is an intricate process that requires careful consideration of various factors. Businesses can choose to utilize specialized services such as ManyChat, Chatfuel, or Flow XO, which offer seamless integration and automation. Alternatively, companies can opt to delve into the nitty-gritty of bot creation by utilizing platforms such as API.ai or Wit.ai, which require coding proficiency.
Undoubtedly, the process of creating an autoresponder chatbot may seem daunting at first glance, but fear not, as the steps involved are relatively straightforward. With proper guidance, businesses can create a functional chatbot in no time, effortlessly optimizing customer service and satisfaction.
Step 1: Choose a messaging platform
The initial step requires you to navigate the labyrinthine world of messaging platforms to find the perfect one for your chatbot. The most ubiquitous platforms available are Facebook Messenger, WhatsApp, and Instagram. But for this guide, we shall opt for the WhatsApp platform.
Step 2: Choose a chatbot builder
Once you've embarked on the challenging task of selecting the messaging platform, the next perplexing decision to make is choosing a chatbot builder. The market is flooded with various builders such as Chatfuel, ManyChat, and several others. However, for this guide, we shall employ the use of ManyChat.
Step 3: Create your account
Now that you have decided on a messaging platform and a chatbot builder, you must create an account with the chatbot builder you've chosen. ManyChat offers a complimentary trial, giving you the opportunity to create your account and start constructing your chatbot without incurring any charges.
Step 4: Build your chatbot
It's time to roll up your sleeves and dive into the nitty-gritty of constructing your chatbot. With ManyChat's user-friendly interface, you can effortlessly create your bot using drag-and-drop blocks, templates, and custom blocks to suit your needs.
Step 5: Test your chatbot
Any product that has been produced need to be checked whether it is working as intended before launching it in the market. So do the chatbots need to be tested whether they are responding as you want them to by sending test messages.
Step 6: Launch your chatbot
Finally, after navigating through the intricate processes of platform and builder selection and constructing your bot, it's time to launch it to the world. With ManyChat, you can easily launch your chatbot on multiple platforms, including WhatsApp, Facebook Messenger, and Instagram, ensuring maximum exposure.
Autoresponder Chatbot for Missed Conversations on WhatsApp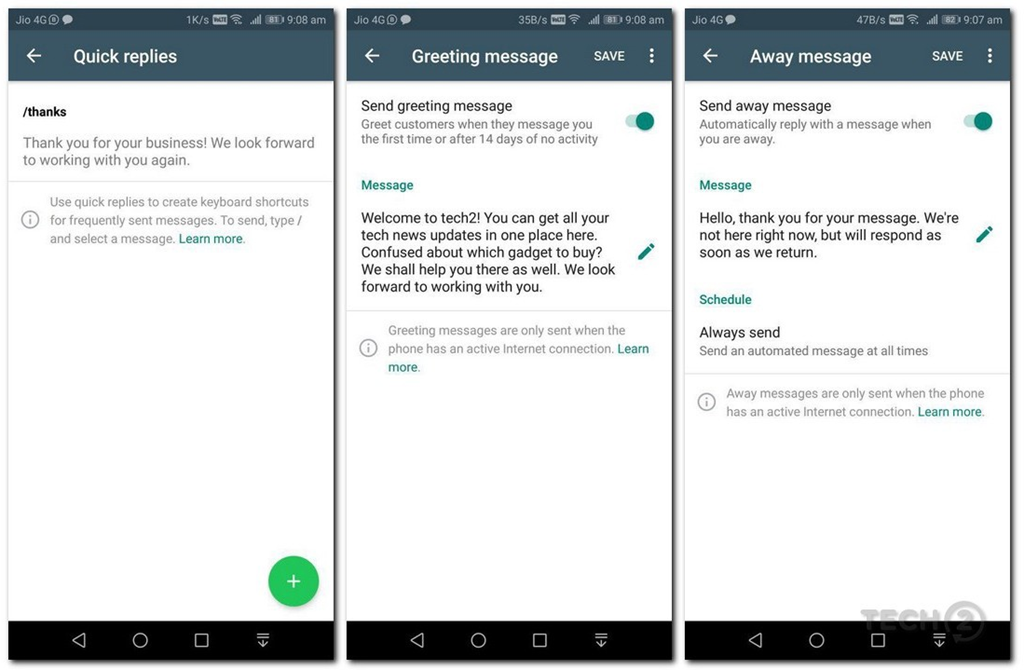 If you're running a business, chances are you've had to deal with the occasional customer or client who tries to reach you outside of business hours. While you can't be available 24/7, you can make sure that your customers and clients know that you're still there for them by setting up an autoresponder for missed conversations on WhatsApp.
To do this, simply open WhatsApp and go to Settings > Business Settings.
The next step involves enabling the autoresponder feature, which is instrumental in automating the chatbot's functionality. This enables the system to respond instantaneously to customers who reach out to you outside of your designated business hours. Businesses can customize the message that is sent automatically, ensuring that customers receive accurate information regarding the expected response time, thereby enhancing the customer service experience.
Autoresponder Chatbot for Missed Conversations on Instagram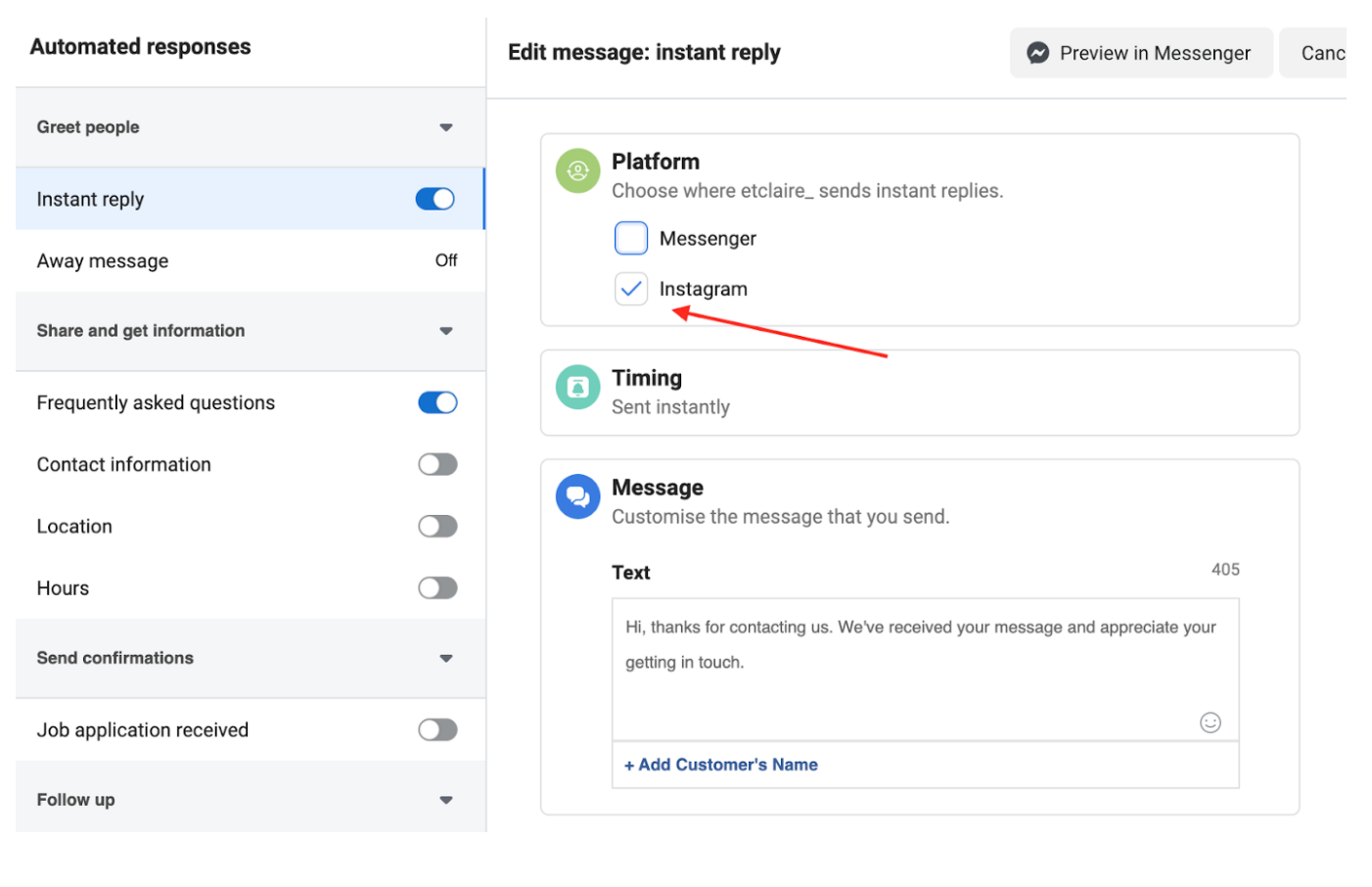 As a business owner on Instagram, it's common to encounter a deluge of messages, some of which you may miss inadvertently. The sheer volume of traffic that your account attracts makes it challenging to keep up with all the queries and inquiries that customers may have. Nevertheless, failing to address your customers' needs in a timely manner can lead to missed opportunities for sales and revenue generation, not to mention a negative impact on customer loyalty and satisfaction.
To mitigate this issue, businesses can leverage the power of autoresponders. By simply accessing their Instagram settings and selecting the Business tab, businesses can activate the autoresponder feature, allowing the chatbot to automatically reply to messages sent outside of business hours. This is an excellent solution that ensures that customers are acknowledged and responded to, even if the business owner is not physically present. To simplify the process, there are several plugins and apps available that can be utilized to activate the autoresponder feature.
Autoresponder Chatbot for Missed Conversations on Facebook
Facebook businesses are no different than any other businesses when it comes to the occasional missed message. In fact, with the sheer volume of messages that many Facebook business pages receive, it's practically impossible to respond to every single one of them promptly.
In today's fast-paced world, customers expect instant gratification, making it crucial for businesses to respond promptly to customer queries. If you're a small business owner, keeping up with round-the-clock customer service can be a daunting task. Limited resources can make it difficult to respond to every customer query promptly.
But don't worry, there's a savior that can help you provide seamless customer service even outside business hours. In a world where businesses of all sizes are jostling for prominence in the cutthroat marketplace, the emergence of the autoresponder has been nothing short of a game-changer. By entrusting the autoresponder with the task of automating the response process, one can ensure that customers receive swift and timely replies irrespective of the hour of the day or night.
For businesses that have a conspicuous presence on Facebook, the autoresponder feature is a veritable godsend that can ensure that no potential leads or sales slip through the cracks. By capitalizing on the bot's capacity to assume control of the response process, businesses can guarantee that their online presence remains consistent and that their customers' queries are handled with due diligence and care.
To activate the autoresponder feature, simply navigate to your Facebook Page settings and select the Autoresponders tab. Here, you can customize a message that will be sent automatically to anyone who tries to reach you outside of your business hours, letting your customers know that you value their inquiry and will respond to them as soon as possible.
Creating an Autoresponder Chatbot in Microsoft Teams
Microsoft Teams offers more than just the ability to create chatbots on social platforms. It also provides a remarkable feature that permits the creation of an autoresponder. To unleash this capability, navigate to the 'Settings' tab and select the 'Autoresponder' option.
Upon activating the autoresponder, you can personalize it to send messages when you're unavailable, preoccupied, or offline. You can even select to dispatch messages to particular individuals or teams, enabling you to stay in touch with those who matter most.
In addition to the autoresponder, Microsoft Teams empowers you to configure an out-of-office message for your account. This feature is particularly helpful when you're taking a break or on vacation. To enact this feature, direct your attention to the 'Settings' tab and select the 'Out of Office' option. With these features at your disposal, your communication game will undoubtedly reach its zenith.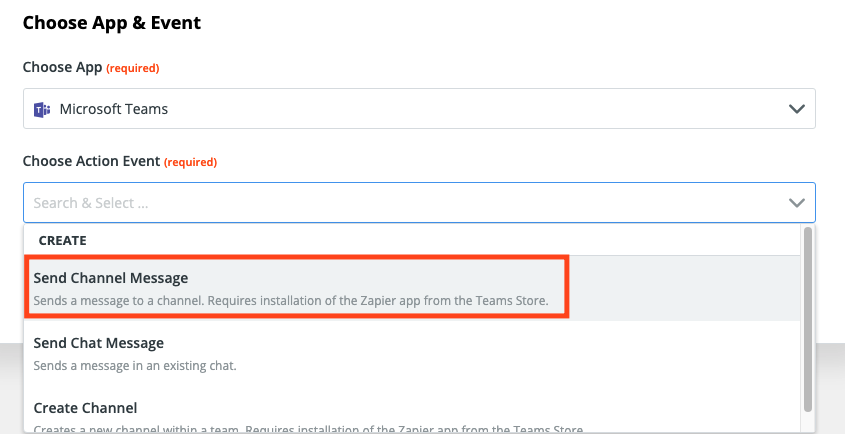 But if you want to set up a bot for specific phrases or keywords, here's how to set it up:
1. Install the app Zapier from the Microsoft App Store.
2. Open the Zapier app and click on 'Make a zap'.
3. Choose your trigger (the action that will start the zap) and select 'Mentioned me in a channel'.
4. Click on 'Continue' and sign in to your Microsoft Teams account.
5. Choose the team and channel where you want to receive notifications.
6. Click on 'Continue' and select the 'Send me a Direct Message' action.
7. Enter the message you want to send and click on 'Test & Continue'.
8. Your zap is now ready to use!
Once your zap is ready, you'll receive a Direct Message every time someone mentions you on a channel.
Deleting an Autoresponder Chatbot
Once you have created an automatic reply, and for some reason, you want to delete it, here's how, if you are using ManyChat:
1. Open the Autoresponder page in ManyChat.
2. Click on the three dots next to the name of the autoresponder you want to delete and select Delete from the drop-down menu.
3. A pop-up will appear asking you to confirm if you want to delete the autoresponder, and if yes, click delete to confirm.
If you're feeling overwhelmed by the influx of automated messages flooding your WhatsApp, Facebook, or Instagram account, you might want to delete your autoresponder. It's understandable if you're craving a bit more control over your communication channels!
Thankfully, deleting an autoresponder is a fairly simple process. Head over to your Settings and select the Autoresponders tab. This will give you an overview of all the autoresponders you have set up. If you decide that you no longer want a specific autoresponder, simply select it and hit delete. And that's it, the automated messages will stop flooding in!
Best practices for autoresponder chatbots
To optimize your customers' experience with your autoresponder chatbot, it is essential to adhere to a set of best practices that prioritize accessibility, responsiveness, helpfulness, and ease of use. Achieving these goals involves a careful consideration of two critical factors: perplexity and burstiness.
To begin with, ensure that your chatbot is available 24/7, allowing customers to access it seamlessly and effortlessly at any time, day or night. By prioritizing the availability of your bot, you can increase the chances of your customers interacting with it when they need it the most, thereby enhancing their satisfaction and loyalty.
In addition to availability, it is crucial to ensure that your bot is responsive, providing swift and accurate responses to customers' queries. The responsiveness of your bot can determine whether customers feel satisfied with their interaction or frustrated by delays and errors, highlighting the importance of optimizing this aspect of your bot's performance.
Moreover, to maximize the utility of your bot, it must be designed to be helpful and effective in addressing customer needs.
By implementing a customer-first approach, you can massively boost satisfaction, minimize the chances of negative feedback or complaints, and guarantee that your chatbot remains an indispensable part of your customer service strategy.
Additionally, ensuring that your bot is easy to use and navigate is crucial. This means that you need to design its interface in an intuitive manner, minimizing the chances of users getting confused or frustrated.
Prioritizing these factors will result in a chatbot that is both efficient and entertaining to use, enhancing the overall experience for both your customers and your business. So, go ahead and prioritize these factors to create an autoresponder chatbot that elevates your customer service game!
FAQs on Autoresponder Bots
1. Does an autoresponder chatbot support dynamic content?
In the modern-day landscape of conversational interfaces, the presence of "dynamic content" within an autoresponder chatbot can be a game-changer when it comes to catering to customer needs. The inclusion of dynamic content permits the bot to infuse personalized details, such as the customer's name or location, into its responses, ultimately improving the level of engagement and satisfaction.
2. Can I use an autoresponder chatbot to sell products?
A stunning aspect of utilizing an autoresponder chatbot pertains to its ability to act as a proficient sales assistant. By leveraging the bot's multifaceted capabilities, such as its aptitude for taking orders, responding to inquiries, and processing payments, one can effectively streamline the sales process and augment the customer's overall experience, thereby increasing the possibility of future transactions.
3. Do I need to be available 24/7 to use an autoresponder chatbot?
While 24/7 availability may be deemed desirable, it is not a prerequisite for employing an autoresponder chatbot effectively. Thanks to the bot's automated functionality, it can cater to customer queries even during periods of unavailability, rendering it an invaluable asset for businesses aiming to bolster their customer service capabilities.
4. Will it auto-reply to every single person who contacts me?
Rest assured, the bot won't reply to all queries you receive. The autoresponder chatbot will only respond to customers who reach out to you outside your business hours. So, during your operational hours, the bot won't interfere with your customer interactions.
5. What platforms can I use an autoresponder chatbot on?
From WhatsApp and Facebook Messenger to Viber, Microsoft Teams, and Instagram, to name but a few, the diverse range of platforms that support chatbots renders the process of deploying an autoresponder chatbot a veritable cakewalk.
6. Can you configure the autoresponder chatbot in multiple languages?
In the context of catering to customers hailing from distinct linguistic backgrounds, the capacity to configure the autoresponder chatbot to respond in multiple languages is nothing short of a boon. Whether your clientele is fluent in English, Spanish, French, or any other language, the bot's capability to engage with customers in their native language is an invaluable asset that can foster stronger relationships and drive up overall satisfaction levels.
7. Do you need coding skills to create an autoresponder chatbot?
No. Chatbot builders like ManyChat provide templates and drag-and-drop blocks that make it easy to build a bot without any coding skills.
Conclusion
If you're searching for the key to unlock the next level of customer service, look no further than the autoresponder chatbot. And when it comes to crafting and launching the perfect chatbot capable of taking your customer service to soaring heights, the ManyChat chatbot builder is a trusted and reliable partner that can deliver results.
However, as with any digital tool, success hinges on adherence to best practices that guarantee a seamless and glitch-free customer experience. From streamlining the customer journey to optimizing the bot's response time and ensuring that it's configured to cater to a diverse range of customer needs, the devil lies in the details when it comes to mastering the art of chatbot deployment. But with a little patience, perseverance, and the right toolset at your disposal, you can create an autoresponder chatbot that is as effective as it is user-friendly.
Do you still have questions about autoresponder chatbots? We'd love to hear from you in the comments below! And if you need assistance kickstarting your chatbot campaigns, look no further than 12 Channels. Our team of chatbot marketing experts can help you maximize the potential of your chatbot campaigns. Get in touch with us today to learn more about how we can help you!