Introduction
The market is changing. As far as social media for marketing is concerned, the market has transformed itself from a stock version to a top-level version. Nowadays, it has become very easy to enter the market but it's not that easy to go to the top of the table. Many companies got sealed just because they were bad on how to use social media for marketing.
Marketing strategy plays a very crucial role in the overall growth procedure. To cope with the new challenges of marketing you need to focus on the present global era that is completely technological.
Technology has been a major part of the progress and development of the global market. Nowadays, 90 out of 100 business units (small as well as large) use the advantages of technology to grow. Many companies also break numerous records because the strategy and plans they adopted were completely based on the new marketing scenario.
So in this article, we'd like to present all the basic information that is important for using SMM. You'll learn about what are the few things that are required to create a great social media business profile, why a good social media marketing profile is essential and the things you've to avoid while using social media for marketing. Let's get started and take a deep dive into the article.
What Is A Good Profile On Social Media For Marketing?
It's always said that your appearance in the eyes of your customers is the most pinching part. So to create a unique and astounding appearance, you must create a good social media marketing profile.SMM profile plays a very crucial role as customers first approach your profile before doing any marketing transactions.
So there are a few basic points that are essentially required to consider to create a better appearance in front of your audience.
#1 Profile display name
Firstly, before beginning any move just think of a good, memorable, and attractive display name for your business.
If your business is a one-person company or a sole proprietorship business, then it's better to put your name on the display name. If your business is a large business consisting of many associated faces, then it's far better to go with the company's general name.
Make sure to keep a single profile name on all the working platforms.
#2 Social media profile picture
We all know the fact that an image speaks 1000 words. Secondly, it's very important to have a nice and attractive display picture. Pictures tend to attract more eyeballs than a usual informative paragraph.
If you are the owner of your business, then it's better to put your picture as the company's profile picture. If your business is large and you'd like to make it more recognizable, then it's better to put the company's logo as a display picture.
It would be far better if you use a similar profile picture for all the platforms because it'll be helpful for the customers to easily recognize your brand.
#3 Social media profile description (Bio)
Thirdly, business description is very important for marketing strategy. Mostly the users visit and scroll your page if your description (bio) is attractive and informative.
Platforms like Instagram, Facebook, and Twitter limit the usage of characters in the description section. On the other hand, platforms like LinkedIn allow its users to extend their bio up to 2000 characters. Here you can firmly exaggerate as much as you can to describe your business.
It helps in creating a great impression in front of your customers.
#4 Social media profile link
Social media platforms allow their users to attach various links to their profiles. Through this, you can attach your main website link on multiple platforms.
Make sure to attach the link to the main page on Instagram, Twitter, or LinkedIn. So that the audiences can easily find it and click on it to visit your page.
#5 Social media activity
Social media activity means the activities that are related to sharing of media on various platforms.
Uploading twice or thrice a day will not give you fruits until it's done in an optimized manner.
You need to analyze your audience's activities like their time of using, their interests, and their choices of searching.
Uploading content that is interesting and relevant can bring you fruitful results.
Anatomy Of A Good Instagram Profile
Why is it essential to have a good business profile when using social media for marketing?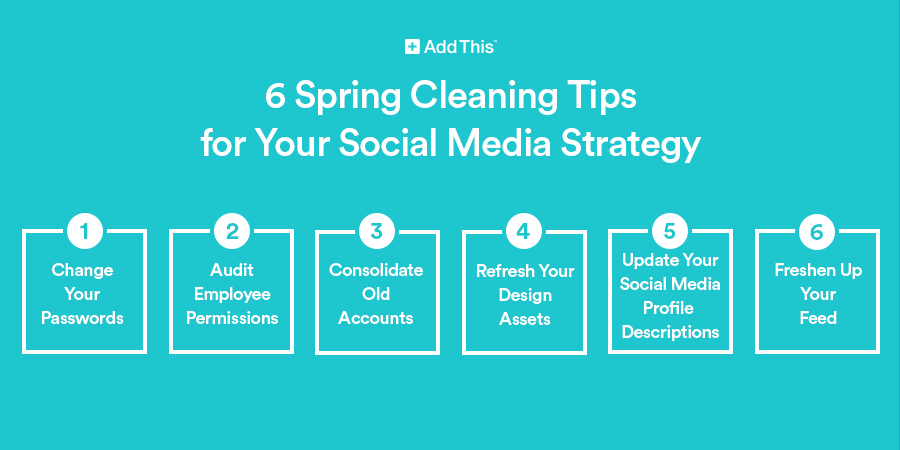 Undoubtedly, it's very significant to have a good social media business profile. However, having a good social media business profile will benefit you in so many ways, internally as well as externally.
When it comes to social media for marketing, audiences only choose those who have unique, creative, and original content. So if you are having these 3 qualities in your content, then it becomes mandatory for you to carry a well-organized business profile. 
Now let's see the answer to why it's essential.
#1 Exposure
Here, having a good social media profile will benefit you more exposure online. Simultaneously it also benefits the audience who are associated with searching the profile and can find out the business easily.
Social media is all about quality content and relationships with targeted audiences.
#2 First Impression
First impressions indeed count. Whether the first impression is positive or negative, it impacts the audience easily.
So to make your first impression an authentic and perfect one, you just need to observe the interest of consumers globally, so that you can throw your ball in the right direction.
#3 Brand awareness
A good social media profile will help you to increase your brand awareness. Brand awareness is completely dependent on the interest of the audience.
It will help you to increase the extent of the customer's approach towards the products or services that you offer.
#4 Brand personality
Brand personality is as important as having a social media profile. A good social media profile will help you to create your personality.
This is helpful for the customers to easily distinguish between your line of business and competitors' business.
#5 Business Credibility
A good social media profile helps in showing business credibility to your target audience.
This will help in creating a positive image in the customer's eyes. So that the business can win the hearts and trust of its customers without any difficulty.
#5 Uniqueness
A good social media profile promotes individuality by creating a unique and recognizable brand profile.
This will help in increasing the company's values and also helps you to stand out from competitors.
Things to avoid when using social media for marketing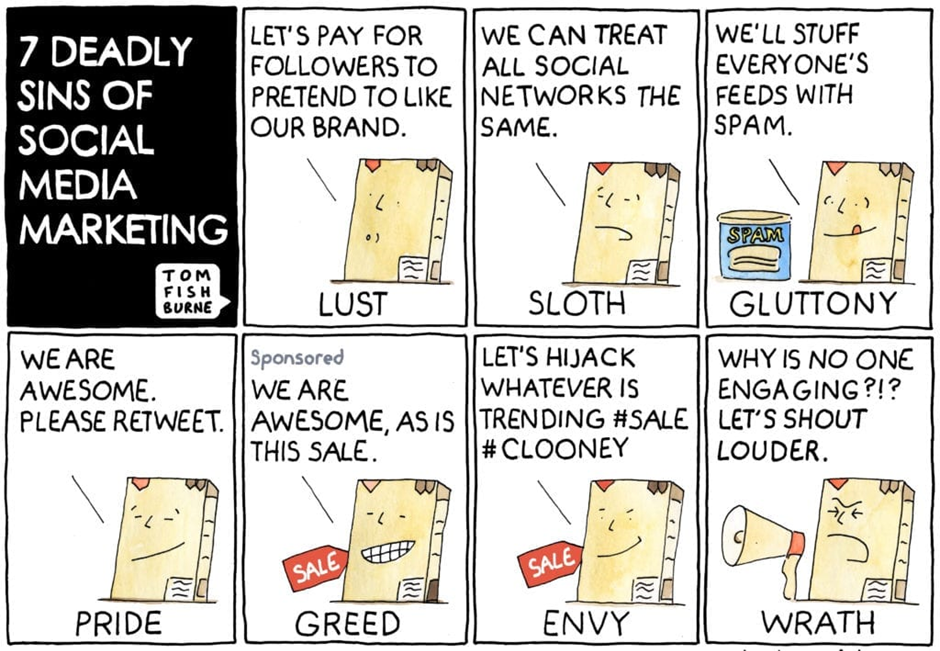 There are several things to avoid in social media for marketing. Only posting and advertising content cannot build a quality customer base.
Certain points make huge sense while promoting and advertising content.
#1 Lack of proper marketing strategy
A good and effective marketing strategy is very important. Many business units get negative results due to a lack of a proper effective marketing strategy.
So a proper effective and less complex marketing strategy is necessary.
#2 Not defining the target audience
It's true that not every follower of your page is your customer. So, a target audience refers to a particular group of audiences that show frequent interest in your business.
It becomes very important to define your target audience.
#3 Not tracking analytics
Analytics study is the best method to get complete knowledge about the reach of content, interactions, and impressions.
A proper analysis of these data is very important. As the entire marketing strategy is dependent on studying statistics and executing various plans. 
Many marketers failed while tracking analytics and lost their business. So proper tracking is highly recommended.
#4 Quantity over quality
However, if you'd like to create a one-step-ahead kind of impression on your customers, you must focus on improving quality rather than focusing on quantity.
Quality matters more than quantity. Qualified products are the only products that can rule over the entire marketing area.
#5 Same content everywhere
Different roads need different vehicles, similarly, different platforms need different content.
Since different social media marketing platforms are having different features. You must have to create separate content for each platform.
This will help the viewers to get more attractive and genuine content.
#6 Not curating user-generated content
In general, we only purchase those products which are of our use. Similarly, audiences also would like to witness those contents which are user-generated, particularly aiming at their choices and preferences.
If your content is not user-generated, then there's very less chance of involvement in your business and this will also decrease the name and goodwill that has been achieved yet.
#7 Not boosting the right post
Only with the help of an analytics study can you compare different posts. Since analytics gives you all the necessary and required information it helps you in understanding the reach of each post.
And with the help of this, you can easily choose the right post to access boosting.
#8 Dependency on automation
Too much of anything kills us. Similarly, too much dependency on automation tools will bring uncalled uncertainties in the business.
As we are having tools, through which we can grow our business organically but physical participation in the process is what matters.
So it's better to update more physically than with any help of automation tools.
#9 Relationship
It's very important to maintain a relationship between customers and business. Social media platforms provide several ways to communicate with each other.
You should communicate with your audiences frequently. As this will help you in creating a good customer base and also helps you in increasing your brand loyalty, by maintaining a healthy relationship between business and customers.
Conclusion
In this article, we've mainly focused on how to use social media for marketing purposes. The proper usage of SMM tools plays a very crucial role in handling the account of business.
To grow more, you must create a business that is fully original, relevant, and user-generated. These three are the main points to keep an extra eye on.
Many companies got zero percent growth rates due to a lack of proper marketing strategy and lack of effective use of tools in social media for marketing. By focusing on the primary ideas that have been described in this article, you can easily create good content and also will earn a good amount of revenue. But having an expert at hand is always a safety net for any business looking for growth.
12 channels are here to help you take your project from beginning through launch. We have experts in every single aspect of brand marketing strategy, so we'll be able to work with whatever problems or opportunities arise on this journey together. Call us today and get a free consultation!