Introduction
It's probably no surprise that social media marketing is the best input of every wise marketer in the world.
Discovered, observed, experimented with, and proven, SMM is the best digital marketing platform for businesses aiming to get global characteristics. The features and nature of digital marketing allow its users to dive into the world of extraordinary opportunities.
Nowadays, people are admiring the diversified habitat, following several rituals, traditions, and cultures, and obeying the customs. Most importantly, people are getting easily bored of something that is used more than thrice because, in this generation, globalization has given everything even to the people who're sitting in the corner of the world.
A person next to your home can be a millionaire in the future, as the future is always uncertain. Besides being in a developing world, let's think about how we can grow by growing other people. Especially let us think like NIKE did. To do that, knowing Nike marketing strategy is what is important.
How can we observe the over-experienced world by influencing them at the same time?
Before you even begin thinking about this point, the above sentence is now outdated. Top companies and brands have already influenced the general audience and are currently standing at the top of the graph with an established brand reputation that cannot compromise at any cost. Their planning, allocation of resources, and utilization of them in an optimum manner gave them all types of marketing success.
Most importantly, they have focused on building a strong group of audience, frequent increase in the number of sales, healthy relationships with customers, and their global regular service.
In this article, let's see how a brand used social media in the best way for marketing and by focusing on what point it got success. So, let's get started.
Which brand has the best social media marketing strategy?
Source: Brandwatch 2017
When it comes to building a marketing strategy, every business should set up a different plan of action for their respective domains. One type of marketing strategy can not bring your fruits to you, rather it offends the marketing dilemma inside your business.
You need to think better than most of the brands, to be on the list.
So far the marketing strategy part is concerned in terms of SMM, brand finance apparel from biz journals that say, the brand 'Nike' is the world's most valuable apparel brand.
NIKE marketing strategy knows how to hike those bitter charts better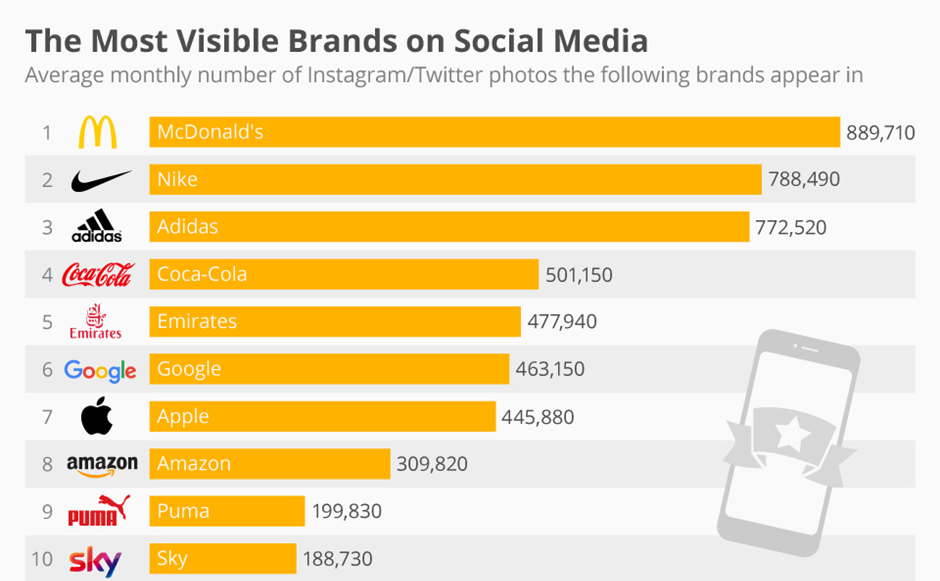 Nike is an American multinational corporation founded on 25th January 1964 (as BLUE RIBBON SPORTS) by two legendary personalities Phil Knight and Bill Bowerman. It became 'Nike' in the year 1971. At the present date, Nike holds around more than 33 Billion US Dollars of brand value and it's ruling as per the market cap in its domain, all thanks to the Nike marketing strategy.
It's now on the list of top companies all around the world. The number of their customers is increasing day by day with no brakes and it's becoming unstoppable. It has built its brand value in such a way that most of its competitors frequently fail in between the competition because of its brand launch plan. Business competition can only be determined by the number of sales and the customers you have. At the end of February 2022, global marketing statistics revealed that Nike's revenue increased 7% to $34.48B. They have seen a rise in the number of online sales more than their store sales.
The report says that in India, the revenue range of Nike was worth ₹500 CR in the financial year ending on March 31′ 2021. As of 2019 reports, there are more than 150 offline stores of 'Nike' alone in India. If before 2020 it was that huge, then imagine the reports of 2022. 
Since the global market is now transformed into a digital market, it has opened an enormous number of opportunities for the new brands and also for the existing brands to generate revenue from all over the world. Nike marketing strategy directly focuses on online sales in India.
Nike marketing strategy not only focuses on producing articles for customers but it creates a lifestyle that changes the human perception to see something better than their usual view. It provides authentic and genuine products to its customers which helps the brand to snatch utmost trust from them. The brand launch plan of Nike marketing strategy is unbeatable. 
But, how did Nike reach the top?
It took them more than a half-century of years to achieve the position, in which they belong in today's generation. It was not a success that can be achieved within a duration of time but it took them years and years of hard work and dedication of all the members who are associated with the brand to build a strong and healthy base for the company.
What can a brand – aiming to succeed learn from Nike?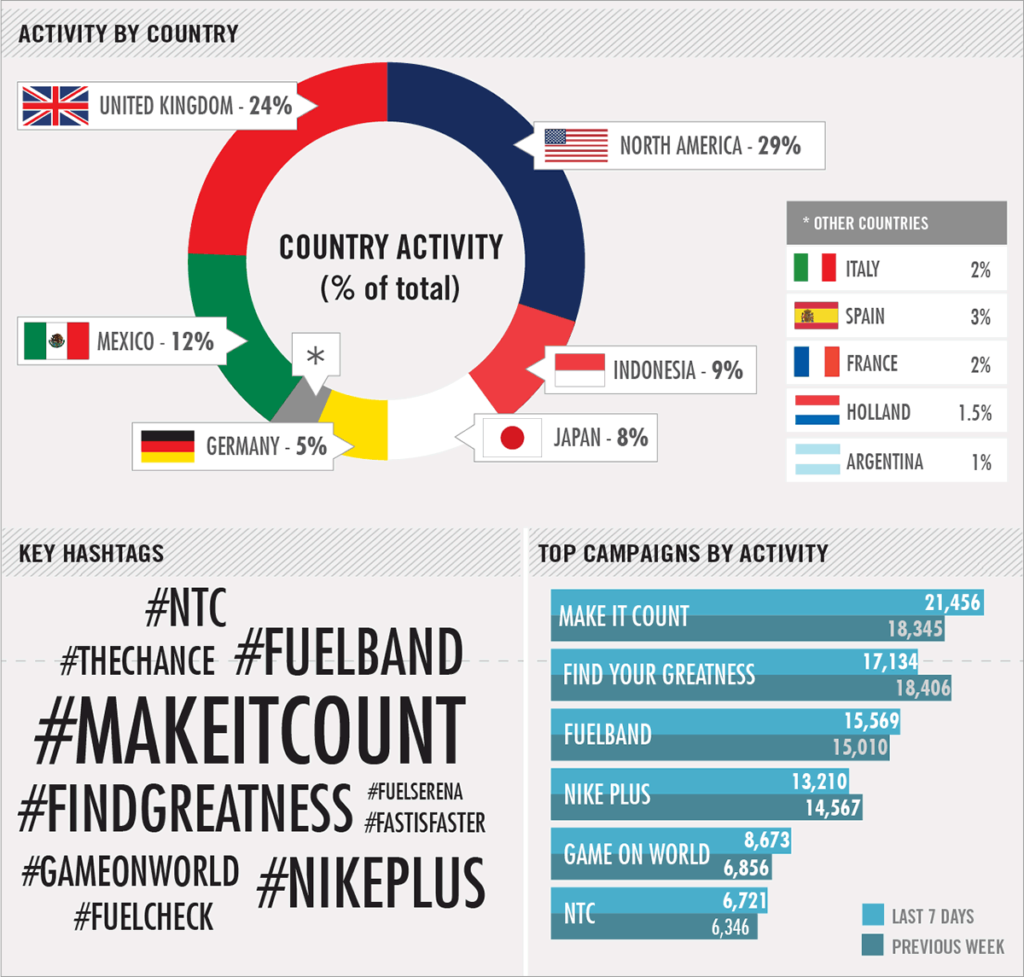 Nike's marketing strategy was a little spicy and special, in comparison with the marketing strategies of other multinational companies.
Nike has made a unique plan of action through which it can drive the opportunities and advantages that have been achieved in offline marketing to their online marketing. Now, Nike's online sales revenue is much higher than the store sells. There are certain things that Nike marketing strategy has highlighted before moving further.
You must observe the skills and techniques that are involved in doing some practical things like Nike, just do it campaign strategy. These include:
#1 Quality over quantity
At first, it becomes very important for the business to catch more and more eyeballs from all types of audience groups. So taking this thing as a major point, Nike focused on building the best and most unique quality range of products to attract the audiences.
Nike marketing strategy has never focused on increasing the number of products but never even failed in producing the required amount and best products.
#2 Targeting icons
It becomes very important for a business to target the right type of individual to get the right type of audience and Nike is damn good at choosing the right type of medium.
Nike marketing strategy chooses popular megastars as their premium influencers for spreading the marketing content worldwide. They target these people and send their required information to the users. 
#3 Narration behind products
As we've already mentioned earlier, Nike not only sells products but also sells stories by keeping them as a medium to attract a larger audience.
Nike marketing strategy sells a change, Nike sells a rhythm, Nike sells a taste and Nike sells an idea. Customers are always attracted by the contents of this brand. They are mostly based on user preferences and choices. They make a narrative style of content by putting a story behind selling their products and this is one of the most effective hacks to get the unachievable records.
#4 Respects all groups equally
From the beginning, Nike has never created any bias while targeting a specific group of audience. Firstly it analyzes the needs and desires of its targeted customers and then creates products based on that.
It creates products from ₹500 – to ₹3000000. So that every type of audience group can easily afford the products.
#5 Outstanding marketing campaigns
Nike marketing strategy focuses on building the best narrative stories and taglines for each line of product. Their brand awareness campaigns are one of their most profitable opportunities which help indirectly drive the traffic towards their products.
Brand awareness campaigns Nike gave them the best type of customer base through which they've managed in building trust and loyalty at the same.
#6 After-sales service
What is important for a business to survive is its service to its customers. Many companies lose a major group audience due to the lack in providing proper after-sales service.
To build trust, loyalty, and a stronger connection between customers and business, Nike marketing strategy awarded their customers with the best after-sales service. Most of the customers choose this brand among other brands only because of this.
#7 Engagement
Through customer engagement, Nike has built amazing customer loyalty. It became very easy for Nike to understand their customers in a better way.
The more interaction, the more the audience will be attracted to your brand. This will help you to become a valuable brand and provide you with better customer insights.
#8 Observe, target, and achieve
Nike's plan of action was completely based on these three points.
Firstly, they observed what their audience was expecting from their brand. Secondly, they targeted those key points mainly in the production process. Thirdly, after executing every plan effectively and efficiently they've achieved their entire objectives.
These were the main points behind which the brand Nike marketing stratgey has achieved everything. They've planned accordingly and focused on every point. This made their brand a recognizable and trusted one.
Conclusion
The main reason behind selecting Nike marketing strategy in this context is, that at the current time it's one of the most trusted and loyal brands as per audience points of view because of its brand awareness campaign like Nike, just do it campaign strategy. It's the world's largest athletic apparel company. 
If you'd like to make your business a successful and established one through SMM then it becomes very important for you to understand how Nike ,arketing strategy works and other popular brands use social media marketing to gain the utmost advantage. And if you need help getting started, here at 12 channels, we specialize in helping businesses break down barriers and pursue high dreams!
Learn how to harness the power of social media with our experts. We'll give you a free consultation and help throughout your entire campaign at 12 channels! You have time to make a change, you just need the motivation. Contact us and get started today!