Introduction
"The first step towards getting somewhere is to decide that you are not going to stay where you are." – Chauncey Depew
It takes less than an hour to begin a plan, but it takes days and days to process the plan.
Forget the traditional way of marketing! Social Media Marketing is now more important than ever before, and you're going to want a plan for your business that takes advantage. It's essential not only in getting new customers but also in keeping old ones interested with content tailored just for them because a successful campaign can lead to an increase of 10%+, so don't miss out…planning in your strategy!
It ensures proper management and optimum utilization of allocated resources, it enjoys its importance.
In this article, we are going to cover all the points that are essential before executing a business plan. We'll cover the important points that need to be considered before starting marketing. They are what the importance of it is, how it'll help the business to grow, how lead generation with social media marketing is important, and how it's helpful for the customers as well as for the employees of the organization.
Let's not forget the importance of preparation before starting our marketing efforts. It is crucial to know what will be expected from us to victory!
Things to know before using Social Media Marketing
One cannot jump in the middle of the ocean without knowing how to swim. Similarly one cannot start SMM without knowing what it is and how it works.
In the previous article, we've already discussed the beginner's guide to social media marketing. Now let's throw a spotlight on the execution section of marketing.
There are a few points that are mandatory for all types of businesses to consider while planning and executing them.
Astonishingly, with a very big number, around 8 out of 10 Indian startups failed as per 2022 statistics. The main reason backstage was a lack of proper marketing strategy and effective management.
To avoid the above scenario in the near future, this article is being prepared keeping in mind the tactics and key points to highlight in the first step of it.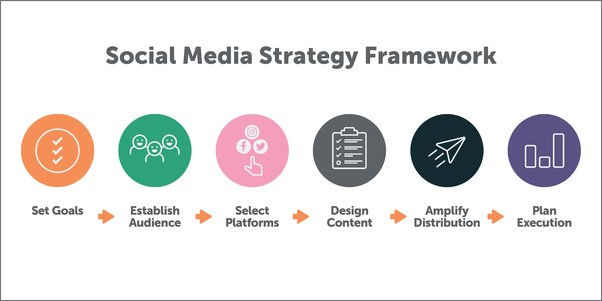 #1 Choosing Goals
One cannot make $100Million overnight. Similarly, even a business cannot earn that big amount of numbers at the beginning. Choosing goals that are beside the moon is not less than the idea of a foolish person expecting gold in space. Choosing goals that can be achieved simply is very important, so far as the first step is concerned.
#2 Proper team building
A proper team leads the business from the front. If a business is not a sole proprietorship and is having employees, it must build a separate and proper team for social media marketing. So that they can give complete attention to a particular task.
#3 Decentralization of group tasks
Decentralization of group tasks refers to the division of group activities among the employees. Through this, the complication of tasks will be reduced. This ensures efficient communication and is also helpful for quick decision-making.
#4 Social media marketing skills
Learning Social media marketing skills are mandatory for social media marketers. Marketing skills ensure excellent communication skills and creative content building which allows the marketers to connect and engage with their potential customers.
Importance of SMM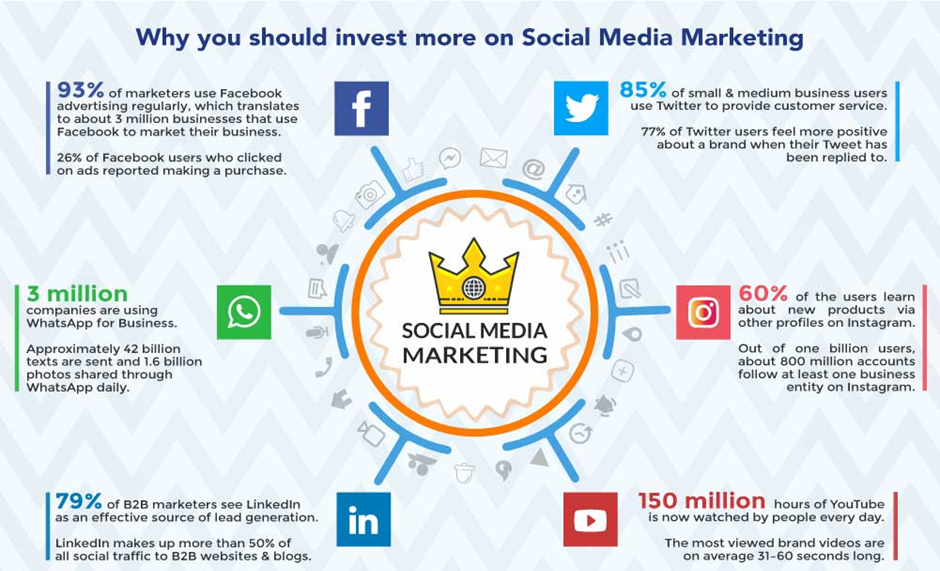 It is a universally acknowledged truth that social media marketing serves as a veritable lifeline for businesses seeking to achieve exponential growth. Indeed, in order to effectively navigate the intricate landscape of modern commerce, it is imperative to pay heed to a number of key tenets that deserve our attention and scrutiny.
#1 Building brand awareness
The potential benefits of leveraging this dynamic marketing channel are manifold, chief among them being the facilitation of seamless and efficacious brand awareness and recognition. By availing themselves of the unparalleled power of social media marketing, users can effortlessly disseminate content at lightning speeds, eclipsing the plodding pace of traditional marketing methods with consummate ease.
#2 Customers' Interest
In the contemporary landscape of commerce, it is virtually impossible to ignore the omnipresent behemoth that is social media marketing. Indeed, this innovative medium has emerged as a ubiquitous trend that transcends age, gender, and socioeconomic status, catering to a diverse and multifaceted audience that spans the globe. You'll easily get to know about the interests, choices, and preferences of customers through this. 
#3 Drive Traffic
Nowadays, people are more active on social media than being active in their physical life. The search rate of brands on social media is more than lakh. So there are enormous numbers of chances to generate a good amount of website traffic.
#4 Provides various platforms
Social media consists of many applications which enable its users to share audio or video content globally. There are many popular platforms for social media marketing that also help marketers to spread their business with the help of these applications and software.
#5 Data about audiences
This marketing channel provides information about the audiences through which the marketers can get connected with them at any time to solve their problems and queries.
#6 Customer loyalty
Social media marketing platforms help brands to build customer loyalty. As it allows the users to get connected with the business anywhere and anytime, sharing their feedback and responses to the business, the brand can easily build customer loyalty by providing services in or after-sales.
#7 Cost-effective
This marketing approach requires very less investment but ensures its users get better returns on their investments. To grow above the line and if you'd like to spread your business on a wider level, you must promote your content with premium services.
#8 Helps identify trends
Nowadays, people are more obsessed with updating their lifestyles on various social media marketing platforms. Through this, normal people also come and copy the trends. So, it's very easy for marketers to identify the trend that is trending on the market.
How will social media marketing help businesses to grow?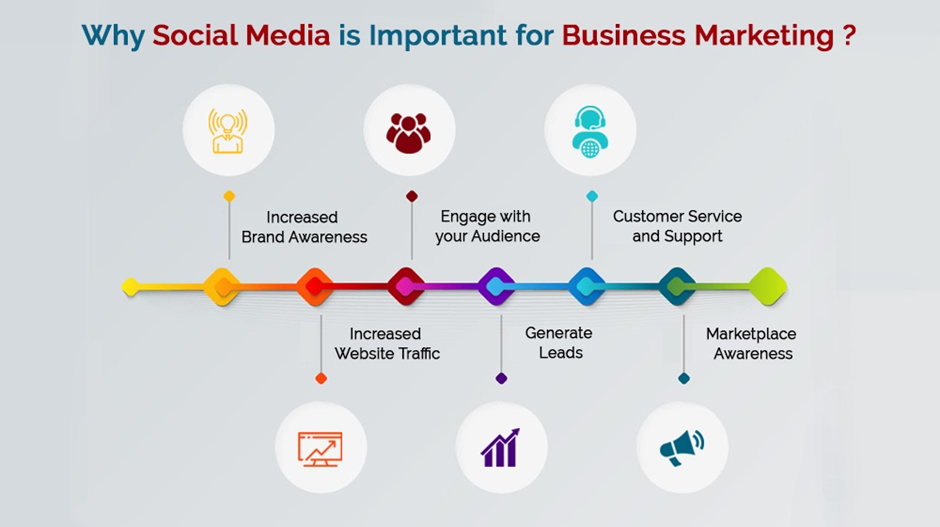 Here, you'll get to know how social media marketing helps marketers and businesses to grow. Certain key points resemble the exact meaning of the above sentence. They are explained in the points below.
#1 Increases Goodwill
As social media marketing is completely based on customer loyalty, we can say that this marketing will help you in increasing the goodwill of your business.
#2 Lead generation with Social media marketing
The use of social media as a marketing tool is not very difficult. It can be used by every age group. Since it's easily accessible, it helps in generating more and more leads from all age groups.
#3 Boost sales
This marketing channel can directly affect the business by boosting the sales of the products. As the customers can directly purchase the products through the business's website.
#4 Partner with influencers
On social media, marketers also form an agreement with the social media influencers to promote and advertise their products on various platforms. It helps in reducing Marketers and also positively affects the business.
#5 Customers and audience Engagement
For businesses seeking to meaningfully engage and interact with their target audience, there is simply no better avenue than social media marketing. By deftly leveraging this dynamic medium, businesses can foster a deep-seated sense of trust and loyalty among their customer base, engendering a level of rapport that simply cannot be matched through other means of engagement.
How is Social Media Marketing helpful for the customers?
In addition to conferring myriad benefits upon businesses, social media marketing represents a veritable boon for customers seeking to satiate their needs and fulfill their desires in a streamlined and efficient fashion. Indeed, the advantages that accrue to customers are manifold, with two key tenets standing out as particularly salient.
#1 Needs and Desires
First and foremost, social media empowers customers to gain unparalleled access to products and services that satisfy their needs and desires with remarkable precision and efficacy. Through judicious use of this medium, customers can easily and expediently navigate the labyrinthine world of commerce, accessing the precise products and services that they seek with unparalleled ease.
#2 Purchase of products
Moreover, social media marketing also facilitates the seamless purchase of products, enabling customers to make informed purchasing decisions with a level of ease and convenience that is simply unparalleled. Whether by visiting the official website of a given brand or engaging in direct communication with marketers through social media, customers can readily purchase products with minimal friction, bolstering the overall satisfaction and loyalty of customers while enhancing the bottom line of businesses.
#3 Direct communication
Through SMM, the customers can directly get connected with the businesses. With the help of this customers can ask questions related to products and services, and also can get clarification for their queries.
#4 Feedback and Suggestions
Social media marketing also provides a feature through which you can give feedback and suggestions to the business.
#5 Return on investment
Social media marketing in business ensures a good amount of ROI on very less investment. As social media marketing is a cost-effective approach, one can easily grow their business through the features.
Conclusion
It is always said that the first step of anything is so important, as the first step is the only way that resembles the entire process of how a company is going to lead in the future. To get the task done in a very effective and efficient way, we must consider the points that are described above.
When we primarily focus on the benefits of the consumers, we can easily build brand awareness and loyalty in the eyes of customers. And your business is worth the investment!
The most important thing for your business is to get leads, and we have the solution. A free consultation with our subject matter experts can help you see what's possible. Contact us today at 12 channels to get started on your first steps towards building a successful brand reach.