Introduction
Social media marketing as a career? Yes, you read it correctly. Through this, you can also build a good and stable career and can earn money without much effort.
The power of social media for marketing has only been consitently growing over the past few decades, with the growth of digital age. It consists of many features which help the marketers use it with one finger. It is very easy to operate as it carries very less complexity.
One need not have a degree to pursue the art of marketing. As social media doesn't create any bias between the age groups, all age groups who are good at understanding the insights and numerical calculation can easily start marketing through social media.
So in this article, we'd be taking you to a complete guide where you will get to know about the meaning of Social media marketing, a career in this, books that are required (not mandatory) and we'll also reveal the answer to which is the best and effective marketing platform at the current time.
What Is Social Media Marketing?
Social media marketing is a marketing tool where marketers use the best social media marketing platforms and websites to promote and advertise their products and services.
Here, the customers can directly get connected with the business by visiting their business profile and websites. Customers can also share their feedback and suggestions with the businesses.
This marketing channel is a part of digital marketing through which the businesses can build brand awareness, drive traffic to their website, build customer loyalty, and can generate leads.
Social Media Marketing As A Career (SMM)
There are ample opportunities to get money from it but we've listed 5 social media marketing career opportunities.
1. Social media marketing manager
A social media marketing manager refers to a post where a person gets in contact with the customers on behalf of the business and solves their queries of customers. This is suitable for those people, who are interested in using social media and finding new ways to connect with many people online. To become an SMM manager, it's not mandatory but we highly recommend you to be an expert in communication skills.
2. Social media marketing executive
A social media marketing executive refers to a job opportunity where an individual has to create and manage a company's business profile on social media websites and platforms. Here the executive aims at presenting a strategic planning report for the other levels of management. The executive studies the current market scenario and optimizes the company's profile on various platforms accordingly.
3. Social media marketing analyst
Social media marketing analyst refers to a job position where an individual is responsible for heading the quantitative and qualitative information of the company's client performance. Here the analyst carries out work related to the analysis of content performances and setting of benchmarks for various social media marketing campaigns.
4. Social media marketing coordinator
A social media marketing coordinator refers to a job position where the coordinator has to keep an eye on and manage social media needs. The main function of the coordinator is to work in coordination with branch sales and branch administration. The coordinator also helps in the development and execution of social media strategies.
5. Paid marketing specialist
Paid marketing specialist is an entry-level job position in this field. The main function of specialists is to develop and execute the company's marketing strategies effectively and efficiently. Specialists also help in maximizing profit by making amendments to plans. Paid marketing specialists help in the preparation of reports regularly.
Top 7 books recommended growing business in social media
There are thousands of books through which you'll get to know about how to spread business globally with the help of social media. We've chosen 6 books that you can take as a reference to get productive and complete knowledge on social media.
They are listed below-
The social media marketing workbook – Jason McDonald
Likable social media – Dave Kerpen
One million followers – Brendan Kane
The power of visual storytelling – Ekaterina Walter and Jessica Gioglio
Ultimate Guide to social media marketing – Eric Butow, Mike Allton, Enders A. Robinson, Jenn Herman, Stephanie Liu
The new community rules: marketing on the social web – Tamar Weinberg
The above is a list of various books that are currently rocking in the field of social media marketing. As the tactics, methods, and strategies listed in the books are accurately based on frequent research and practical observations.
These are highly recommended to you because the review they got from the general audience is astounding.
Which is the best social media platform for marketing?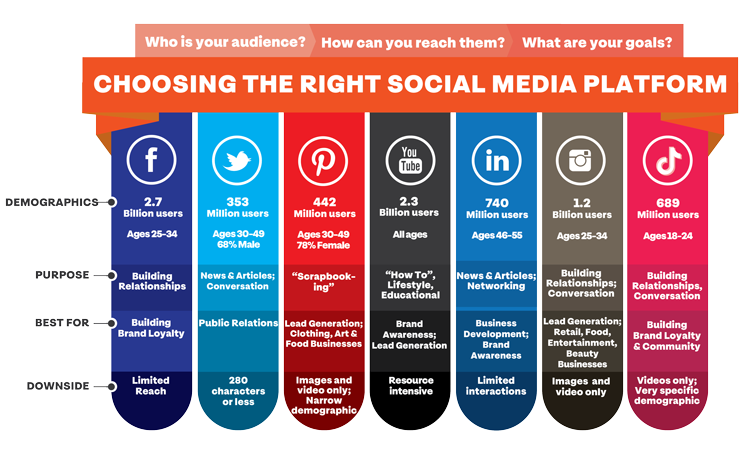 It would be unfair to the other social media marketing platforms if we conclude that a particular platform is the best social media marketing platform. But, the obsessive features and rapid growth of the platform made us accept the fact that this platform is the only platform currently going to rock on.
This platform has already overtaken all the marketing platforms on the race and now we can assume that this is one of the leading social media platforms.
Through frequent analysis of current marketing scenarios and particularly focusing on users' opinions, we have concluded that though Facebook is the world's largest social media platform with more than 2.6 billion active users per month, the platform is best for you and your business INSTAGRAM.
So let's understand why we have put capital letters for Instagram. There are a few very important points to consider for the question of why.
#1 Quality brand building
Instagram is widely popular because it has the feature of paid advertising which allows it to grow organically. This helps in benefiting the relationship between your customers and your brand. A quality customer base always helps in building a quality brand.
#2 Trackability
Instagram allows its users to track sales and leads through Instagram ads. Through this, we can see a better and more understandable report of ROI. It also provides a report of Instagram ads, which can help you to know about customers' choices and preferences.
#3 Target Audience
By harnessing the power of Instagram, users can seamlessly track the multifaceted locations, intricate interests, and nuanced behaviors of customers as they engage with various visual stimuli.
The implications of this functionality are manifold, as it can effectively streamline the laborious task of sifting through data and provide a direct, user-friendly report that empowers businesses to deftly select and cater to their desired target audience.
#4 Customer Engagement
Reports have made it clear that more than 800 million people use Instagram per month. Many users use social media marketing to search for brands. So, if you'd like to spread your business globally, you must engage with all types of customers regularly.
#5 User-generated Content
User-generated content will help you to snatch the eyeballs of your customers. Nowadays, people prefer content that is related to human welfare and development. So, by making user-generated content we can buy a potential customer base.
#6 Trends and benefits
Nowadays, Instagram has become a medium to spread awareness about the trend. A trend that matches the audience is the trend that will help you to boost your business.
Trends impact a lot on creating versatile and informative content. Usually, audiences on Instagram are more likely to move toward the trend. So, by analyzing and studying the trend, you can create unique content for your business.
Conclusion
No reports are required to claim that everybody is surely interested in earning huge amounts of money without putting much effort. So, to make money, you need to give time, patience, and dedication. SMM is considered to be the best platform to spread a business unit on the internet. You just need to indulge completely without freaking much time and diverted efforts. But the downfall starts when your customers alone take the effort to run your business.
So, why let your customers drive the bus?
As an entrepreneur you need every edge available if things are going well but what about when they aren't – or even worse yet; what should we do during our down moments! That's where having an agency on board comes into play because sometimes all we want ́s something small…something quick; like lead generation. With 12 channels that isn't a question. Get a free consultation with us today and talk to our subject experts about your goals. We will be happy to assist in getting you started right away!