Introduction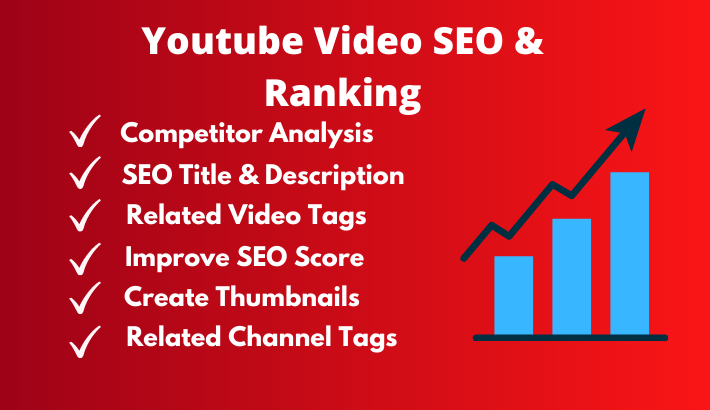 Delving into the depths of YouTube's ranking algorithm reveals that higher rankings can significantly augment the inflow of views and customers to your videos. But the million-dollar question is, how do you ascend the ranks? Fear not, as this article will illuminate the fundamental concepts of YouTube SEO, such as the underlying mechanisms and strategic optimization techniques aimed at boosting your videos' search engine rankings. By incorporating these strategies and investing a modicum of effort, you can bask in the glory of higher YouTube rankings and attract an influx of views to your videos.
What Is YouTube SEO?
The intricate process of YouTube SEO entails optimizing your video content to enhance its visibility and ranking on search engines. By leveraging the same principles as traditional SEO, the primary objective is to secure top positions for your videos in the search results for keywords that are pertinent to your content. As a result, when individuals search for these targeted keywords on YouTube, the algorithm will favor your video and display it prominently in the search results, potentially driving more traffic to your content.
How Does YouTube SEO Work?
This sophisticated mechanism incorporates a diverse array of parameters, including video title, description, tags, and thumbnail, among others, to determine a video's relevance and value. By meticulously optimizing these elements for the algorithm, you can substantially improve your video's chances of ascending the search result rankings.
Why Is YouTube SEO important?
The significance of YouTube SEO cannot be overstated, as it holds the key to unlocking the treasure trove of views for your videos. The higher your video ranks in the search results, the greater the likelihood of garnering eyeballs and viewership. And with an increase in viewership, the tantalizing prospect of attracting new customers and expanding your business beckons.
How Can I Optimize My YouTube SEO Videos For Better Ranking?
Youtube SEO Tip #1. Use keywords in your title
Employing the appropriate keywords in your video title, such as "How to craft an impeccable omelet" or "Optimal strategies for ascending the ranks on YouTube," is a quintessential component of enhancing your video's search rankings. However, to achieve this feat, you must first embark on an intensive research quest to identify the most pertinent and popular keywords that users are searching for. Luckily, you can turn to Google AdWords Keyword Planner, a robust tool that can help you accomplish this task with ease and efficiency.
Youtube SEO Tip #2. Use keywords in your tags
Just like with the title, using keywords in your tags will help your video show up for those searches. You can add up to 500 characters of tags to your video. Adding relevant keywords in the tags section of your video will also help YouTube understand what your video is about, and consequently, rank it higher in the search results.
Youtube SEO Tip #3. Use keywords in your description
Incorporating relevant keywords into your video's description represents another indispensable facet of augmenting your YouTube SEO efforts. As search engines prioritize the initial sentences of your description, ensure that you adeptly integrate your target keywords in these crucial areas. Moreover, you can leverage annotations and links to further refine your video's SEO potential and expand your reach.
Youtube SEO Tip #4. Optimize your thumbnail image
Additionally, optimizing your thumbnail image serves as a pivotal determinant in the success of your YouTube SEO endeavors. As the thumbnail image represents the foremost element that catches the viewer's eye upon appearing in search results, it should be visually appealing and compelling. Opt for an image that encapsulates the essence of your video and, above all, ensure that it boasts a high resolution that accurately reflects its content when it is featured in search results.
Youtube SEO Tip #5. Create transcripts of your videos
Transcripts are the written version of your video's audio track. They're great for two reasons: first, they help YouTube understand what your video is about (which can help with ranking), and second, they make your video accessible to people who are deaf or hard of hearing. Create transcripts of your videos by using automatic captions or manually transcripting the content.
Youtube SEO Tip #6. Promote your videos on social media and other websites.
Gaining viewership is not only about attracting people to watch your videos, but boosting engagement, with metrics such as likes, comments, and shares. An increase in engagement paves the way for a higher ranking in the search results, and one method of promoting your videos is to post them on social media platforms, such as Facebook and Twitter, in addition to embedding them on your website or blog.
Youtube SEO Tip #7. Use YouTube's advanced search features
Another significant feature offered by YouTube is its advanced search features, the utilization of which can assist in amplifying the views of your videos. With these search features, one can narrow down their target audience based on factors such as countries, regions, or cities. Additionally, it is possible to exhibit your videos solely to people who have subscribed to your channel, increasing the likelihood of receiving more views.
Youtube SEO Tip #8. Create video sitemaps
Creating a video sitemap is a technique that cannot be overlooked. A video sitemap is an XML file that comprises crucial information about your videos, including the video title, description, thumbnail image, and duration. By generating a video sitemap, you can enable YouTube to detect and index your videos at a faster pace, and with greater precision. You can create a video sitemap with the aid of the Google Video Sitemap Generator tool.
Youtube SEO Tip #9. Use YouTube's PR tools
YouTube proffers an assortment of tools that can prove to be beneficial in increasing the visibility and engagement of your videos. Amongst these tools, one can submit their videos to YouTube's scrupulous editorial team for the off-chance of being featured in the "Up Next" sidebar or the "Recommended for You" section. Additionally, one can make the most of YouTube Cards, which enables you to market your videos across various websites and social media platforms, thereby expanding your outreach.
Youtube SEO Tip #10. Always be improving
Moving on, lastly, one should be cognizant that change is a constant when it comes to YouTube, and therefore, it is imperative to keep oneself abreast of the latest trends and optimal practices to remain relevant. As you create and upload more videos, it is essential to discern what strategies and tactics work in your favor and what does not. This is where experimentation comes into play, and one should always be on the lookout for ways to enhance their channel's performance and obtain a higher viewership.
Bonus tip: Embed your videos on your website.
In order to increase the viewership of your video content, a highly effective strategy is to embed said content within your website. With this approach, your videos with feature in SERP's and the users or potential customers will be able to watch them easily without needing to redirect them to other platform or external platform such as YouTube. Also to enhance SEO more, make use of annotations and links within your description.
Top Youtube SEO Tools To Boost Your Ranking:
Youtube SEO Tool#1 Keyword Tool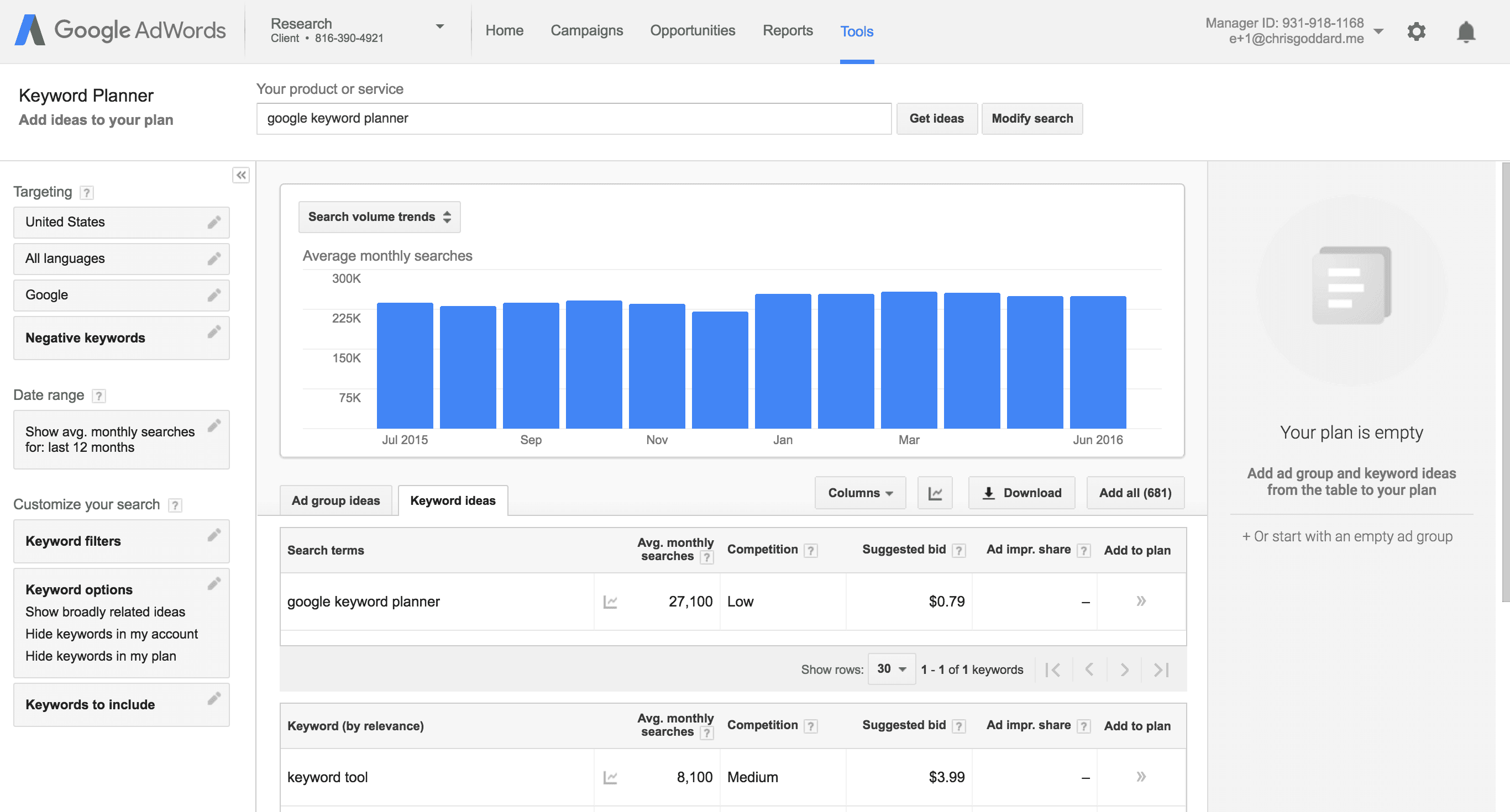 There are several features for this tool with a vast reposirotry of keywords available for free, that can used to optimize YouTube videos, titles, descriptions, and tags. And with batch operations that streamline the process, precious time can be saved.
The Keyword Tool boasts an assortment of advanced features that enable users to filter and group keywords based on a range of parameters, including topic, country, language, and search engine. Additionally, the tool's extensive pricing plans cater to diverse needs and budgets, providing both a free and paid version.
The free version offers up to 750+ keywords from YouTube, while the paid version, starting at $88 per month, affords unlimited keywords, access to advanced statistics, and enhanced filtering and grouping capabilities.
Youtube SEO Tool#2 TubeBuddy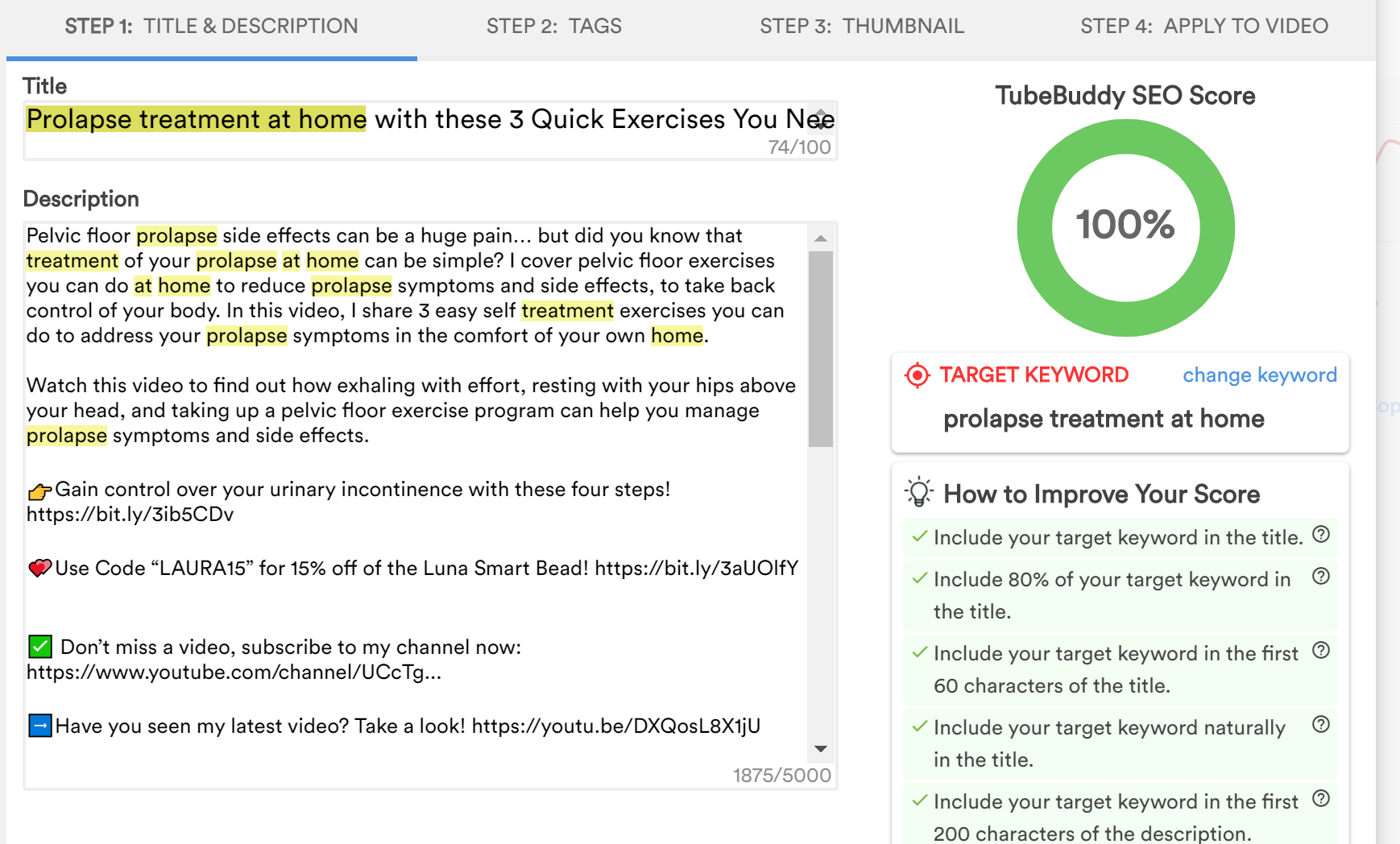 TubeBuddy Features:
Get more views and subscribers with custom thumbnails, channel analysis, A/B split testing, and more
Optimize your YouTube videos for better ranking with tag generators, keyword research, and automatic captioning
Schedule and publish videos with ease
Manage your channel with bulk processing tools, comment filters, and custom notifications
TubeBuddy Pricing Plans:
There are four TubeBuddy pricing plans you'd want to check out:
Free plan
Pro ($9/month) plan with more features and weekly limits
Business ($49/month) plan with more features and monthly limits
Enterprise (custom pricing) for agencies and businesses with more needs
Youtube SEO Tool#3 vidIQ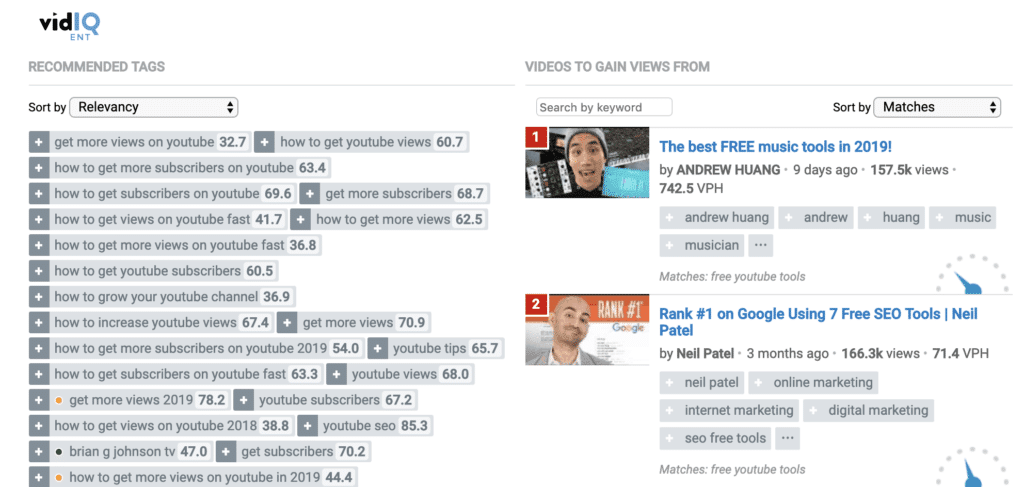 vidIQ Features:
Title Optimization
Description Optimization
Keyword Research
Competition Analysis
Thumbnail Optimization
The first step to take to optimize your YouTube videos for better search engine ranking is to install and activate the plugin. This powerful plugin will help you with all aspects of optimizing your videos, from title optimization to description optimization and keyword research.
The plugin will also give you insights into your competition, so you can see what they're doing right and adjust your strategies accordingly. Thumbnail optimization is another important aspect of YouTube SEO, and the vidIQ plugin can help you with that as well.
vidIQ Pricing Plans:
The free version of vidIQ provides basic features and functions.
The pro version costs $15/month and includes all the features of the free version, plus more in-depth keyword research, competition analysis, and thumbnail optimization.
Youtube SEO Tool#4 Youtube Analytics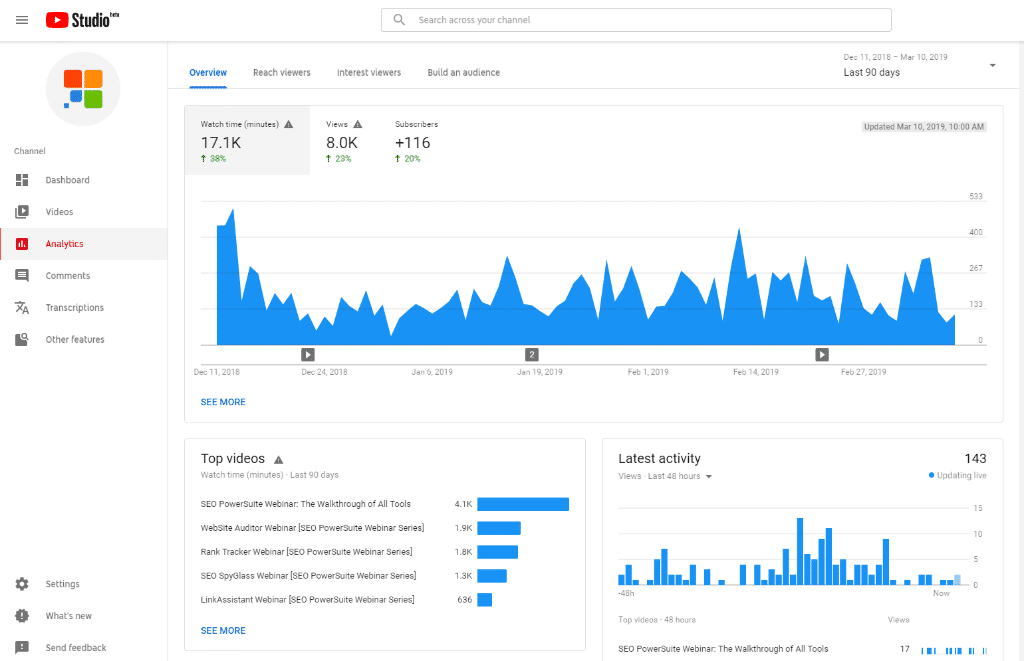 Youtube Analytics Features:
Number of views
Demographics: Age, Gender, Location
Watch time: Average view duration, total watch time
Subscribers gained and lost
Video engagement: average % viewed, likes, dislikes, shares, comments
Youtube Analytics Pricing Plans:
There is a free and paid version of Youtube Analytics. The paid version gives you access to more features, such as location data and detailed demographics.
Though there are several other tools like Google Trends, Social Blade, Hootsuite Insights, and Sprout Social. In this Guide, we only discussed a few on our list. But if you are interested in knowing more, keep an eye out for our blogs in the future!
Conclusion
With these tips, you can start to optimize your YouTube SEO optimized videos for better ranking and visibility. Implementing even just a few of these tips can make a big difference in how often your videos appear in the search results.
And if you need help getting started you can always get started today with a free consultation with 12 Channels on how you can make it to the top with just SEO in your bucket. So get started today and see the results for yourself! Today is never late, but tomorrow is.