Introduction
You are sitting at your home, and suddenly your phone buzzes. You have got a new email from your favorite store, and they are offering a massive discount on their products. What do you do?
The answer is simple- you go ahead and check out the deal.
This is because even in today's digitized world, people still prefer receiving promotional offers and discounts via email.
This clearly shows that email marketing is far from dead and businesses should continue to invest in this platform to achieve success.
In this article, we will explore 20 email marketing tools that will help your business to succeed in 2022.
1. Benchmark Email
Benchmark Email is a tool that helps you to create and send beautiful emails. It offers a wide range of templates that you can use to create your email. You can also use its drag and drop feature to create custom emails. Moreover, it also allows you to automate your email marketing campaigns.
2. Sendinblue
Sendinblue is an email marketing service that allows businesses to create and send newsletters, promotional emails, and transactional messages. It offers a wide range of features, including a drag-and-drop email builder, automatic contact segmentation, and autoresponders. Sendinblue also offers a free plan for small businesses.
3. Mailchimp
Mailchimp is one of the most popular email marketing platforms on the market today. And for good reason – it's flush with features, including a drag-and-drop email builder, automatic A/B testing, segmentation, and more.
What's more, Mailchimp is free for up to 2,000 contacts. After that, pricing starts at just $10/month, making it a very affordable option for small businesses.
4. Constant Contact
Constant Contact is another top-notch email marketing service that offers an extensive suite of features. These include customizable templates, contact management, automatic email list cleaning, and more.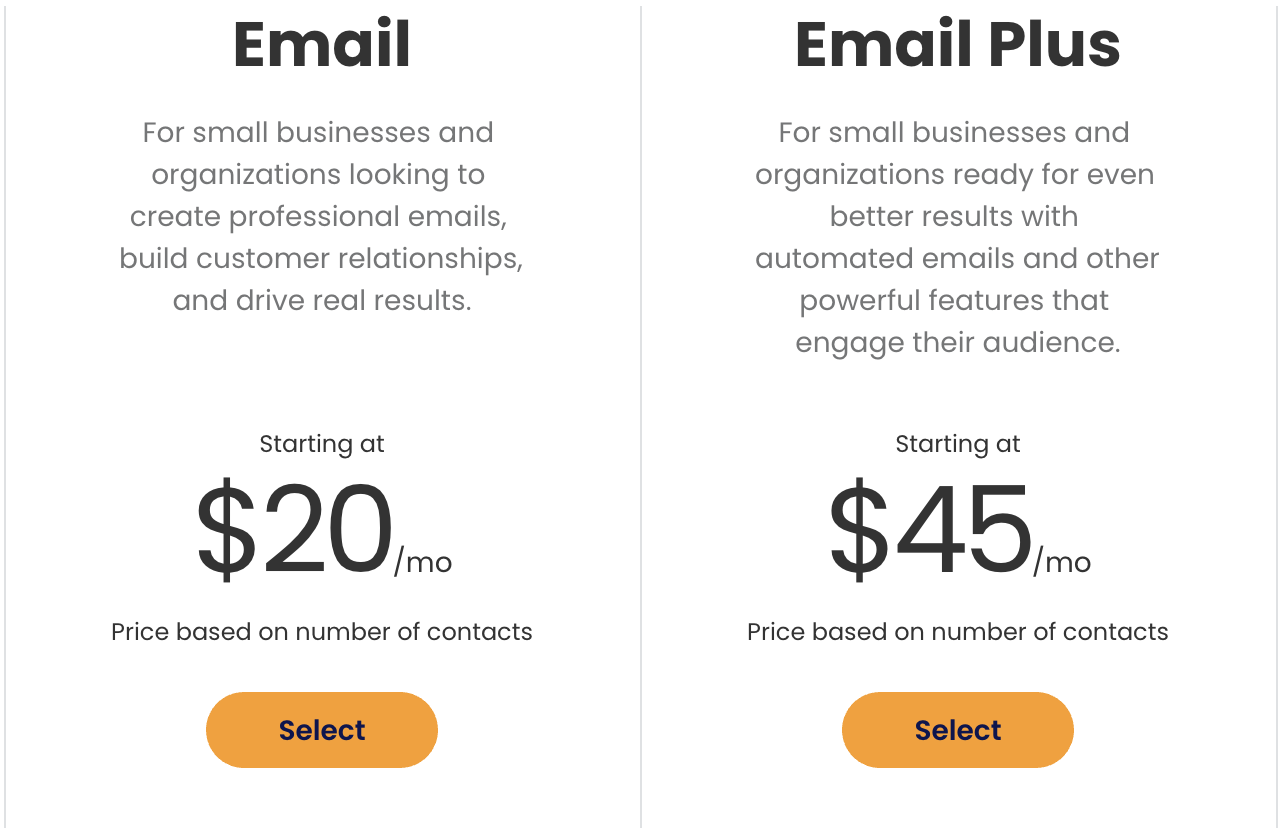 The pricing structure for Constant Contact may start at $20/month for up to 500 contacts. Check out their website if you want to know more information on what more services they offer.
5. AWeber
AWeber, one of the esteemed email marketing tools, is a cost-effective and trustworthy option that works wonders for small-scale ventures. With its plenitude of features including autoresponders, deliverability tracking, and customizable templates, AWeber empowers businesses to unleash their potential and capitalize on lucrative opportunities in the market. Therefore, if you are seeking one of the email marketing tools that can truly elevate your small business and enable it to thrive in this cutthroat landscape, then AWeber should unquestionably be at the top of your list. It ranges from $19/month – to $149/month.
6. Bhive
Bhive, another of the esteemed email marketing tools, facilitating the creation and dissemination of newsletters, promotional emails, and transactional messages with remarkable ease and dexterity. With an impressive repertoire of features such as email automation, campaign tracking, and lead capture, Bhive empowers businesses of all sizes to seize the day and stay ahead of the curve. Hence, if you are scouring the market for an email marketing solution that is both economical and user-friendly, then Bhive is undoubtedly a sterling choice that you simply cannot afford to overlook.
7. SendGrid
Lurking at the seventh spot on the list of email delivery platforms is SendGrid, a sophisticated cloud-based service that not only facilitates seamless transmission of emails but also unleashes a plethora of unparalleled features that are bound to blow your mind. With its remarkable SMTP relay, API integrations, and real-time analytics, SendGrid ushers in a new era of innovation and dynamism, enabling businesses to unlock their true potential and stay ahead of the game in this fast-paced digital world.
It also offers a pay-as-you-go pricing model that makes it a great choice for businesses with fluctuating email volume.
8. Lyris
Lyris is another among the other email marketing tools that offers a wide range of features such as automated welcome emails, triggered messages, and abandoned cart reminders. It also has a robust reporting system that lets you track your campaign's performance.
9. Omnisend
Omnisend, an all-in-one email marketing tool, proffers an extensive array of features, including automated welcome emails, cart abandonment campaigns, and order confirmation messages. Moreover, Omnisend's preeminent drag-and-drop editor enables one to design aesthetically pleasing emails with unparalleled ease and proficiency.
10. Vero
Vero, on the other hand, stands out as another distinctive email marketing tool that helps businesses send personalized emails to their customers. Through Vero, customers can be segmented according to their behavior, interests, or other criteria, thus enabling businesses to send targeted emails that are more likely to drive conversions. Moreover, Vero's drag-and-drop editor is a game-changer, empowering users to craft visually appealing email campaigns. But, what you need to know about Vero is its built-in CRM feature, with which businesses can afford to monitor their customer interactions with the brand easily!
11. Pabbly Email Marketing
Pabbly Email Marketing is a transformative and revolutionary tool that has significantly altered the email marketing landscape. It is an economical option that offers incredible flexibility of features, catering to customers who want to reduce stress and save time. With Pabbly Email Marketing, you get access to a boundless number of contacts and a vast range of reporting options, along with autoresponding options and other customized features that can be tailored to meet your specific needs.
12. FuseMail
Fusemail is another email marketing tool that is popular in the market for offering dynamic solutions to their customers when running email marketing campaigns. Offering robust features, such as unlimited contacts, autoresponders, and campaign reporting options, among several others, Fusemail helps their customer simplify the process of creating and distributing the newsletters, promotional emails, and varied email marketing campaigns, by reducing the hassle and time. The focus point of Fusemail however is when it integrates its platform with other popular email marketing platforms, thus making their customers trust their authority in the industry and expanding resources.
13. GetResponse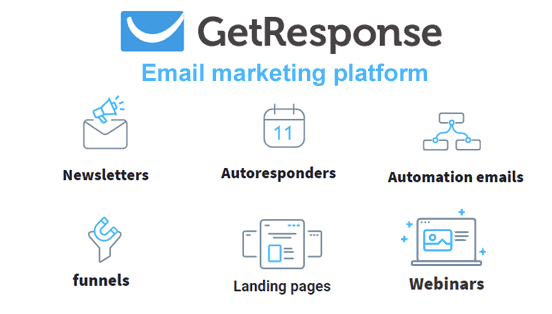 GetResponse, an all-inclusive marketing platform, packs a punch with its mighty email marketing features. From creation to delivery to tracking, GetResponse offers everything needed for robust email campaigns. Moreover, GetResponse's vast collection of templates and tools empowers one to create visually stunning email newsletters with ease and finesse.
GetResponse is an ideal option for businesses of all sizes, offering a free plan for up to 1,000 subscribers, a boon for small businesses. Furthermore, with its vast array of features, GetResponse is a fitting choice for businesses of all sizes, providing an unbeatable value proposition.
14. Wix ShoutOut
Wix ShoutOut, an email marketing tool shrouded in notoriety, allows users to unleash their creative prowess by crafting newsletters, announcements, and promotional materials with ease. The tool's interface is imbued with a seamless quality, rendering it user-friendly and intuitive. To add to the appeal, Wix ShoutOut's repository of diverse templates is available for users to choose from. Moreover, to enhance the visual allure of emails, users can embed images, videos, and other rich media, thus adding a sense of dynamism and interactivity to their email campaigns.
15. Drip
Drip, another exceptional email marketing tool, aids in creating stunning, personalized emails. Additionally, Drip's automation capabilities optimize email campaigns, saving time and resources. A free trial is available, allowing users to test Drip before investing in a paid plan.
16. Layers
Layers, a cutting-edge email marketing tool, is a go-to choice for creating responsive, striking email templates. Layers makes it easy to incorporate multimedia content, such as images and videos, into emails, and the drag-and-drop interface streamlines the creation of custom email designs.
17. NiftyImages
NiftyImages is designed to invigorate your email campaigns and infuse them with a captivating allure that is sure to keep your audience hooked. With NiftyImages at your disposal, you can effortlessly embellish your emails with visually-stunning images, enthralling videos, and other multimedia content, transforming them into awe-inspiring works of art that are sure to elicit a positive response from your target audience. Moreover, you can leverage the power of NiftyImages' drag-and-drop interface to craft bespoke email designs with consummate ease and swiftness, making your email marketing efforts truly stand out from the rest.
18. Qwilr
Qwilr is an unassuming yet incredibly effective email marketing tool that enables you to create stunning, responsive emails that will leave a lasting impression on your subscribers. Qwilr's feature-rich platform allows you to add images, videos, and other multimedia content to your emails, elevating the level of engagement and visual storytelling in your messages. Furthermore, Qwilr's drag-and-drop interface streamlines the process of creating custom email designs, helping you save time and effort while still producing high-quality content.
19. SendX
SendX stands tall as an exceptional offering that is replete with an array of cutting-edge features that are tailor-made to help you orchestrate successful email marketing campaigns with ease and finesse. Boasting of a myriad of remarkable features such as autoresponders, unlimited contacts, and campaign reporting, SendX empowers you to unlock the full potential of email marketing and transform it into a potent weapon that can elevate your business to unprecedented heights.
With SendX by your side, you can effortlessly create and disseminate an array of email campaigns ranging from newsletters to promotional emails and everything in between, leaving a lasting impression on your target audience and keeping them engaged and enthralled.
20. MailerLite
If you're scouring the vast and sprawling landscape of email marketing tools in search of an offering that strikes the perfect balance between ease of use and a dizzying array of cutting-edge features, then MailerLite is a shining beacon of hope that is sure to brighten up your day. Equipped with a sophisticated drag-and-drop editor that seamlessly blends form with function, MailerLite empowers you to unleash your creative instincts and craft bespoke email campaigns that resonate with your target audience on a deeply emotional level.
Coupled with a wide scale of customizable templates, autoresponders, and other remarkable features that are designed to turbocharge your email marketing efforts, MailerLite is a veritable powerhouse that is guaranteed to take your business to new heights of glory.
21. FreshMail
FreshMail is a cutting-edge email marketing tool that will supercharge your business growth in 2022. It offers a vast array of advanced features, including customizable templates, a mind-boggling drag-and-drop email builder, dynamic autoresponders, sophisticated segmentation, and more. With FreshMail, you can quickly create stunning and impactful email campaigns that will entice and convert your audience like never before.
If your quest for an email marketing tool that can catapult your business to unprecedented heights has brought you to the forefront of 2022, then it behooves you to delve deep into the realm of FreshMail, an unparalleled offering that is sure to leave a lasting impression on your mind.
However, before taking the plunge, it is incumbent upon you to conduct a comprehensive investigation into a myriad of factors such as pricing, features, and the like, in order to zero in on the best tool that aligns with your business goals and aspirations. Furthermore, it would be prudent to put the free trial versions of these tools to the test and ascertain which one truly resonates with your unique needs and requirements.
Email marketing will still be a powerful tool for businesses in 2022 because:
In the fast-paced and ever-evolving world of business, staying connected with your customers and prospects is an absolute must if you want to keep your head above water and come out on top. Thankfully, email marketing provides a cost-effective and efficient way to communicate with a large audience, build strong and meaningful relationships, generate leads, and drive sales like never before. With the ability to measure results in real-time, businesses can fine-tune their email campaigns to perfection and achieve unprecedented levels of success.
Of course, with so many email marketing tools available in the market, selecting the right one can be a daunting task. But fear not, for there is an abundance of remarkable email marketing tools out there that are specifically designed to help businesses succeed in 2022 and beyond. So, don't hesitate to incorporate email marketing into your overall marketing strategy and unlock the full potential of this incredible tool.
With the right email marketing tools at your disposal, you'll be able to create and execute email campaigns that are sure to captivate and convert your audience, propelling your business to new heights of prosperity and success.
22. 12 Channels
Finally, 12 Channels a full-service digital marketing agency offers a whopping 12 marketing channel services to their esteemed clients. The core team at 12 Channels are from top B-Schools with varied backgrounds & worked in top-notch companies at different levels. 
At 12 channels, we not only provide you with Email marketing services but offer a wide range of other marketing services in integration with Email marketing. From handling your SEO needs to hire an influencer, everything is handled at 12 Channels.
So don't wait – start researching the best email marketing tools for your business today!
Conclusion
If you are a brand looking forward to enhancing your business and its marketing strategy, email marketing is essential to elevate your brand image and let the world know what your brand can provide and how. With the right email marketing tools and guidance, you can easily design and launch the best email marketing campaigns in the industry that your audience may find irresistible, thus generating greater engagement with the brand and multiplying conversions.
To do this, you can also hire a professional email marketing agency so that you are sure you are in good hands with the intended results. Doing so can provide you with access to valuable expertise and resources that can aid in the creation and execution of a successful campaign.
At 12Channels, we're a full-service digital marketing agency that specializes in twelve marketing techniques, including email marketing. Our team of experts can help you develop and execute an impactful email marketing campaign. Our services encompass a broad range of offerings, such as email list management and email design, among others. Don't hesitate to contact us today to learn more about how we can help your business prosper in 2022!